Easy Flashing for Hoses and Wires
Quickflash high-density plastic flashing panels integrate into the water-resistive barrier and form a tight seal for water management.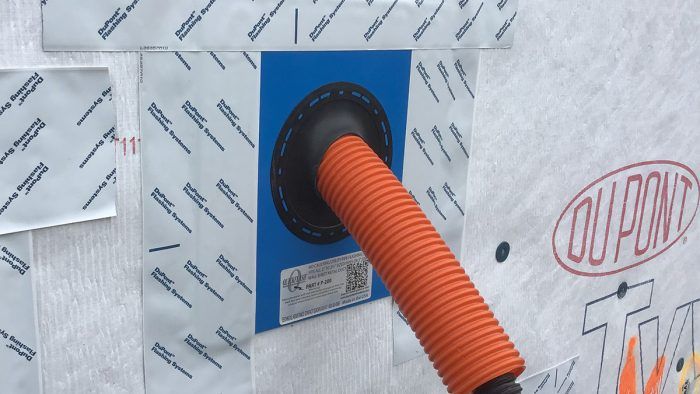 The most important aspect of home building is the control of water on the outside of our buildings. If we can't keep the building dry, then all those flashy finishes are doomed from the start. Wall penetrations for wires, pipes, and HVAC lines are consistently the most challenging details to flash effectively. You could try to use caulk or flashing tapes to seal things up, but Quickflash, a line of easy-to-use flashing products for pipes, wires, and structural components, produces an assortment of high-density plastic flashing panels that work much better. Each of the panels consists of a large flange, which gets integrated into the home's water-resistive barrier, and a flexible rubber grommet that forms a tight seal around whatever you're putting through the wall. There are a lot of different styles and sizes to choose from, and they can even be trimmed to size and painted to blend in better with siding and trim.
—Ben Bogie, carpenter
From Fine Homebuilding #292
More about flashing:
Don't Forget the Flashing – Easily overlooked and sometimes installed incorrectly, flashing keeps water out and rot at bay.
Back Up Your Vent Pipe Flashing – Use flashing tape and additional underlayment to backstop your flashing boot.