Why Is There an Angled Header Over My Door?
Diagonal braces above openings in bearing walls are old-fashioned but still functional solutions.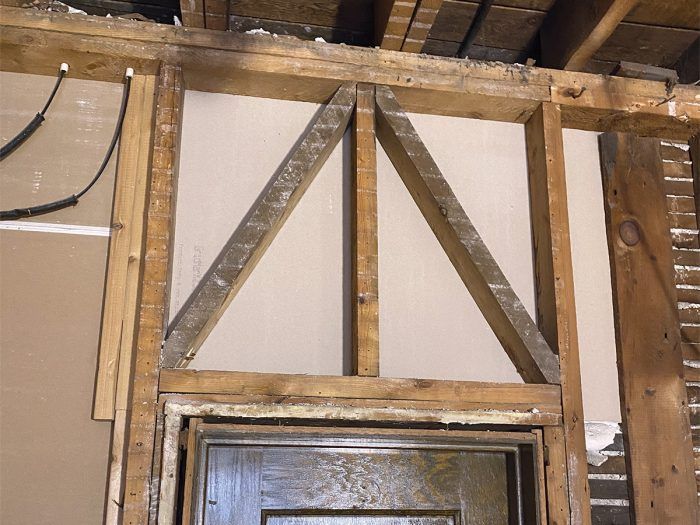 In an older house in Minneapolis, I found what looks like two angled studs instead of a header above a door. Should I replace them with a header while the wall is open?
—Danny via email
Andy Engel, a carpenter with Roxbury Cabinet Co. in Roxbury, Conn., replies: Those two angled "studs" (or braces) have been carrying the floor load above down to the studs around the door for a long time. Unless you're adding to the load above or there are indications of a problem (cracked wall plaster in the room above, for example), I'd follow my father's advice in similar situations: If it ain't broke, don't fix it. At most, I'd consider driving structural screws between the braces and the door studs to improve the shear connection between them.
If there is a problem above, or if the loading will increase, then I'd cut out the braces and the studs just above the door, turning the studs into jack studs. I'd then add a new king stud that runs from plate to plate on each side along with an engineered-lumber header. While a double 2×10 would handle most loads over that span, dimensional lumber will shrink and leave gaps in the load path. Engineered lumber won't. At the same time, I'd take a look in the basement or crawlspace below that door to be sure there's an uninterrupted load path there as well.
From Fine Homebuilding #293
More about fixing old framing
Clever Fix for a Sagging Floor – Learn how to level floor framing in an old home by lifting joists with temporary walls, installing a midspan beam, and adding new studs to distribute the load down the the foundation.
Where Do You Want the Blocking? – Five tradesmen weigh in on where to put solid blocking for stair skirts, grab-bar anchors, and everything else the code leaves out.
How to Fix a Failing Bathroom Floor – From demolition to installation, how to repair old, water-damaged floor joists.