Removing Old Insulation
You can remove fiberglass batts yourself, but you'll need some professional tools, and should always keep safety in mind.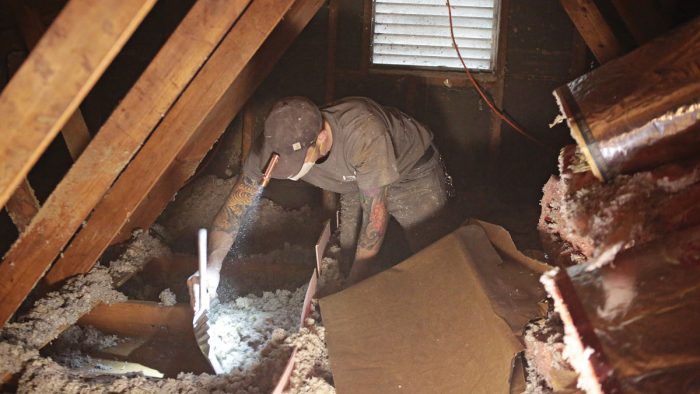 My two-story house has really poor air-­sealing and insulation typical of its 1967 vintage. I'd love to vacuum out the insulation, air-seal, vent the rafters, and blow in R-60 insulation. The problem is that there is already 12 in. of loose fiberglass, making air-sealing difficult. I can rent a removal vacuum and bags for about $600. Is this a fool's errand or something a capable DIYer could take on? Can the removed insulation be blown back in? Can I use cellulose, rather than more fiberglass, to bump up the R-value? Also, I'm certain the walls in this house leak like a sieve. Are there any practical strategies and low-hanging fruit for improving air-sealing at the walls?
—Scott Currington, Ann Arbor, Mich.
Jon Riley, of Casco Bay Insulation in Portland, Maine, replies: In general, I support homeowners taking on the dirty job of attic-insulation removal. It will save a whole bunch of money. However, there are a few important details to consider before signing yourself (and your family) up for this adventure.
Most people see fiberglass as innocuous, but considering the mouse leavings, roofing debris, and formaldehyde binders, you're removing a toxic mess. Wear a protective suit and full-face respirator. Further, always be on the lookout for asbestos and vermiculite. If found, leave that to the professionals.
Can you take the heat? An attic is a strenuous environment, especially in the summer. Heat stroke is real and it can sneak up on anyone. Plan your day with achievable, realistic goals; set up ventilation; drink lots of water; and know when to quit. The disappointment of an incomplete project is small compared to your foot slipping off a joist and destroying a ceiling because you pushed it too far. Been there, done that!
Using a professional insulation vacuum requires planning so you don't accidentally install a thin layer of fiberglass dust throughout your home. Full containment of the room where the attic hatch is located with a zippered dust barrier is the only way to go. Operating the vacuum is relatively easy and relatively dangerous. The steel impeller spins at a gazillion rpm and will easily shoot a knot of wood through the vac bag and a neighbor's window. We typically set up the collection bag facing into an empty box truck. You should point it toward the woods or a windowless wall.
Someone always needs to be with the machine, monitoring the integrity of the bag and how full it is. The bags can weigh a few hundred pounds once full, so make sure you have a way to get it into the truck before you turn on the machine. Don't forget to add up the disposal time and the dump fees when considering whether to do this yourself.
Do the soffit and ridge venting before the attic is a moonscape of insulation. There are potentially big condensation consequences if it gets put off. Gable-end vents are also an option if eave and ridge vents aren't possible. Use spray foam to air-seal all the cracks and holes in the upper ceiling plane before turning to insulating.
Don't blow the old insulation back in. It only takes one small, hard piece of debris to damage an insulation machine. Further, it's fiberglass, which performs poorly compared to cellulose. Make sure to install 18 in. of material so that once it settles you still have R-60. Plan on 2 in. of settling in an open-blow scenario like yours.
When insulating, if you see the top of an open wall bay from the attic, stick a hose down there and pack it as best you can. Once full, block it off with a piece of rigid foam sealed in place with canned foam for a belt-and-suspenders approach. The air leakage you are experiencing in the living space is directly driven by air leakage in the attic and the basement, creating a stack effect. Sealing up these two areas will slow the air movement considerably and improve comfort throughout the home. The exterior walls are almost always at the bottom of my list, even when they are uninsulated.
Photo: Brian McAward
From Fine Homebuilding #294