Artistry Meets Engineering
Learn how the timber-frame artisans at Settlement Post & Beam lay out, cut, and install a custom hammer beam truss for a covered porch.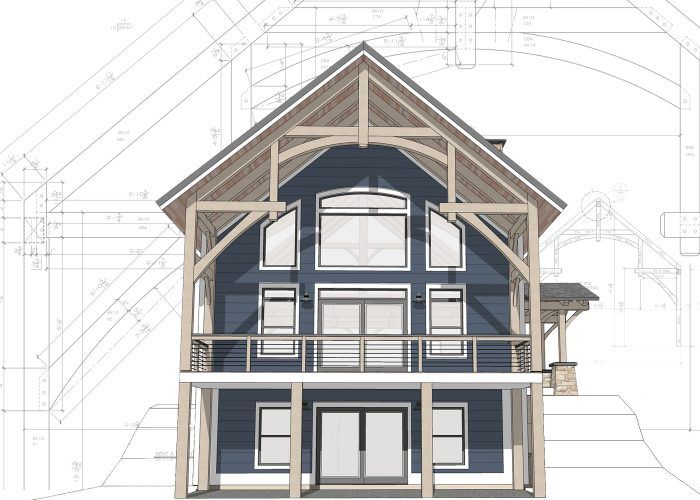 When designing a timber frame structure there are often challenges that require equal parts artistry and engineering. At Settlement Post & Beam we were recently tasked with creating a handcrafted covered porch extension that conveyed the grandness of the heavy timber interior while preserving the lake view from the second floor loft. Here's how our team in collaboration with Timberworks Design architect, Ryan Weigand, took this concept from the joinery shop floor to the rolling vineyards of the New York Finger Lakes.
It was extremely important to preserve the view through the gable-end windows. The challenge in achieving this was creating a structural network of timbers, or a "bent" in timber framing terminology, that could handle the roof load and lateral forces while maintaining that openness. We chose a hammer beam bent to span the 28 feet without post interruption, and incorporated an arched collar tie to match the clients' window configuration. Hammer beam trusses have been used throughout history to carry massive loads while keeping an open and airy feel. You can still find great examples of  hammer beam trusses in cathedrals throughout Europe.
After fine tuning the model, we produce detailed shop drawings that call out all the necessary notching and joinery. After transferring the layout on to the beams, the joinery is hand cut using circular saws, chisels, and a portable bandsaw. We then test fit the bent on our joinery shop floor.
Once on site, the pieces are reassembled and all timber joinery is doweled with 1-in. oak pegs to hold the joints tight. The bent is then set in place and tied back to the main house timber frame with a ridge beam.
After the frame is standing, it's important to protect exterior timberwork from the sun. The homeowners chose a natural exterior oil from Heritage Natural Finishes to seal the Douglas Fir covered extension. The next phase of this project will be installing structural insulated wall and roof panels (SIPs) to enclose the home and create the tight thermal envelope that SIP and timber homes are known for.
---
Settlement Post & Beam is a small, family operated, timber framing business serving residential and commercial clients in the Northeast US. From their joinery shop and base of operations in northern Pennsylvania, they specialize in handcrafting heavy timber structures with intricate mortise and tenon joinery. For more information on the Sickler family and Settlement Post & Beam, please visit www.settlementpostandbeam.com and be sure to follow @settlementpostandbeam on Instagram to see more exciting projects like this one.