Podcast 295: Black Windows, Sagging Roofs, and Mold Control
Matt, Rob, and Patrick hear from listeners about mud homes and mixing valves, before taking questions about black windows, making structural repairs, and controlling mold in a new build.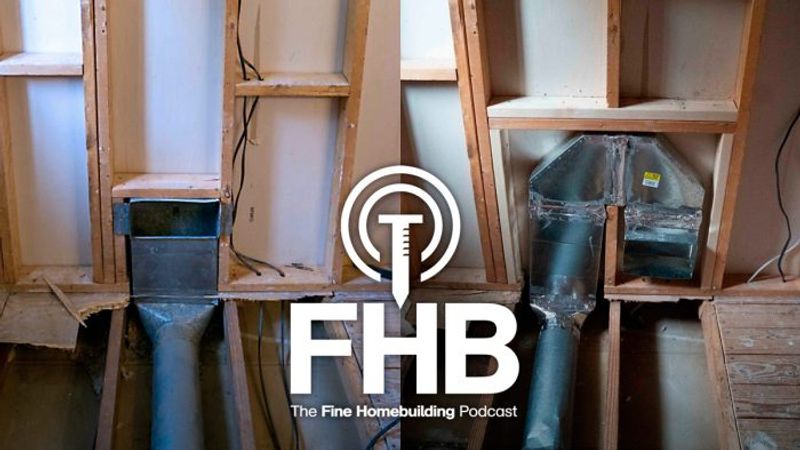 ---
Follow the Fine Homebuilding Podcast on your favorite app. Subscribe now and don't miss an episode:
Help us make better episodes and enter for a chance to win an FHB Podcast T-shirt:
www.finehomebuilding.com/podcastsurvey
John alerts us to a web page describing Celotex products (including wood-fiber sheathing) and their potential for asbestos content. Ryan writes in about mud buildings in Serbia. Richard offers a solution to not-so-hot water. Ed wants to know if black window frames are a problem. Eric asks about reframing a rotten roof. Marlowe wants to know if the wet materials in his new build will create problems. Pulper11 asks about moving the heating register that's interfering with his new shower.
---
Editor Updates:
---
Listener Feedback 1:
John writes: Great show, keep up the great work and stay safe. Here is a link to a free resource on many materials and the difference between Celotex brand sheathing and Celotex (asbestos) pipe insulation. Second show in a row referencing asbestos.
Thanks for the Fine Air Sealing & Roof Venting Show! When do all those blower door numbers go up? 🙂
---
Listener Feedback 2:
Ryan writes:  Was debating whether to send this to the pod email or normal FHB one but thought you all would get a kick out of this video on mud/straw-built structures from Serbia. I know it's either Matt or Rob that's "dying" to build one of these. 😂
"Inside the community made of mud"
Related Links:
---
Listener Feedback 3:
Richard writes: A good solution to any water heater with varying water temperatures is a thermostatic mixing valve on the output of the water heater. You set the water heater to a moderately high temperature, usually 140f or greater and the thermostatic mixing valve adds cold water in realtime to maintain the desired final supply, usually 120f.
These valves are capable of keeping the output temperature within 1 degree even as the tank temp is dropping. Plus it allows the tank to be set at 140f or above, important to reduce legionella bacteria and the like.
Related Links:
---
Question 1: Will black window frames cause insulated glass to fail prematurely?

Ed writes, Dear FHB podcast team, I was just wondering what the FHB team thinks about the popular design trend of black window frames? I've worked on projects where new windows with black exterior frames were installed on a hot summer day and you could burn yourself if you weren't careful. I also wonder about the lifetime of the thermopane seals when the windows get so hot. Have window designs been changed to take into account the added temperature?
Related links:
---
Question 2: Can you help me figure out how to rebuild my failing roof?

Eric from Cullowhee, NC writes, Hi Gang! You are now about the only thing I listen to while driving. Love the show!
I am hoping you can recommend some good books/articles on roof structural repairs. It needs rafter work and ceiling joist work.
I suspect 1/3 of the rafters need replacement or at least sistering. Ditto for the ceiling joists.
I have been watching youtube videos and looking at books on restoring old houses. I have not bought any books yet because they don't look like they have in-depth material on roofing repairs.
It is a 1938 house.
The roof was leaking with holes completely through the ceiling into the bathroom (you could see the sky). Thus the blue tarp. Then the previous owner re-roofed over the tarp with pretty good quality metal roofing. But, it still leaks! Go figure. I bought the house a few years ago.
Related Links:
---
Question 3: Do I need to worry about mold if my new house framing is very wet when we close up the walls?

Marlowe from Northwest, GA writes, Hello New Englanders, I am a joiner in Northwest Georgia specializing in picture frames and museum displays- my Dad is a seasoned carpenter. I grew up surrounded by the trades at his ankles and he (against the will of my Mom) decided to have one last hurrah before retirement-so we're building a house for me and my wife. If we had stuck to the initial plan- I'd be writing this from my new living room in front of a roaring fire; but imagine a picture-framer- and a carpenter on social security- move very, very slowly. We finally got the roof on and are about to start drying in- but due to the length to time it's taken us two to build this thing, and the insane humidity and rain we've dealt with this year, I'm concerned about mold and mildew getting encapsulated behind the drywall, in the joist bays, etc. Do you Yankees have any recommendations for a pretreatment before we close things up? I'd rather be safe than sorry.
Y'all make my day while I'm listening in the shop. Thanks for the great work you do.
P.S.: We received almost half an inch of snow last year, should I be worried about ice dams this winter?
Related Link:
---
Question 4: Is there an easy way to move a heating duct to a different stud bay?
Pulper11 writes, Hopefully you can tell what I'm asking based on the picture.
I'd like to move the vent to the stud bay to the right of where it is currently.
This to me doesn't appear to be a DIY job (correct me if I'm wrong), especially considering I'm not even sure it's possible without having a large impact on the air flow if using bends in the HVAC system.
Just trying to get some feedback from others here before I go hunting for an HVAC expert to do this. I realize that the electrical in the new bay will have to be rerouted.
This move will add additional space for the shower without the shower door being right in the middle of the vent!
Thank you for your time.
Related Link:
---
Visit the Taunton Store  •  Magazine Index  •  Online Archive   •  Our First Issues   •  All Access
---
---
Help us make better episodes and enter for a chance to win an FHB Podcast T-shirt: www.finehomebuilding.com/podcastsurvey
---
If you have any questions you would like us to dig into for a future show, shoot an email our way:

[email protected]

.
If we use your question we'll send you a FHB Podcast sticker!
---
FHB Podcast T-shirts!
Represent your favorite podcast! Available in several styles and colors. Made from 100% cotton. Find the Podcast t-shirt and more cool products in the Fine Homebuilding Store.
---
This episode of the Fine Homebuilding podcast is brought to you by BuildBook.
Happy Clients. More Profits. Less Stress. That's the trifecta of the construction business. We all want that, right? Well, after working and talking with 100's of home builders and remodelers over the past 2 years, BuildBook has discovered the one common ingredient that determines the success of your construction business…the client experience.
Yes, if you drop the ball anywhere in the client experience from the first impression to the final payment, things can get super messy super quickly.
BuildBook has spent the past several months developing the first-of-its-kind platform that focuses on helping you deliver throughout the client journey the one thing standing between you and achieving the trifecta of construction.
It starts with marketing tools to attract the right leads. Add in sales tools so you can win the best projects. And finish with project tools that knock your clients socks off!
If you're looking for an unfair advantage in your business, this is it. Head on over to BuildBook.co now to try it free for yourself.
Visit BuildBook.co for more.
---
Fine Homebuilding podcast listeners can get 20% off anything in the Taunton store, including the Renovation, 5th Edition.
Use the discount code FHBPODCAST to take advantage of this special offer.
---
We hope you will take advantage of a great offer for our podcast listeners: A special 20% off the discounted rate to subscribe to the Fine Homebuilding print magazine. That link goes to finehomebuilding.com/podoffer.
The show is driven by our listeners, so please subscribe and rate us on iTunes or Google Play, and if you have any questions you would like us to dig into for a future show, shoot an email our way: [email protected]. Also, be sure to follow Fine Homebuilding on Instagram, and "like" us on Facebook. Note that you can watch the show above, or on YouTube at the Fine Homebuilding YouTube Channel.
The Fine Homebuilding Podcast embodies Fine Homebuilding magazine's commitment to the preservation of craftsmanship and the advancement of home performance in residential construction. The show is an informal but vigorous conversation about the techniques and principles that allow listeners to master their design and building challenges.
Other related links