Downspouts With Class
A copper plug and cap creates a minimalist standoff and avoids eyesore brackets.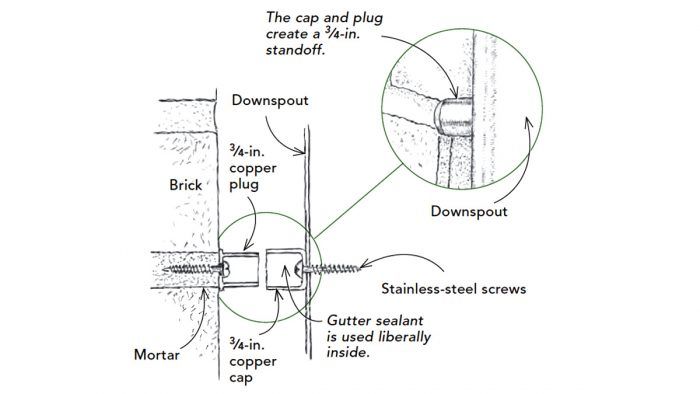 As a designer, I obsess about details. I've never liked the way downspouts are attached to walls with clunky brackets, so I came up with a simple, minimalist solution that costs the same as standard brackets and works with round and square downspouts.
It uses two readily available parts: 3/4-in. copper plugs and 3/4-in. copper caps. I drill an oversize hole through the end of each plug to allow a small amount of adjustability, and I mount the plugs to the wall—one high, and one low. I then hold the downspout in position and mark the center of the plugs on the downspout. Then, I attach the caps to the downspouts by drilling a pilot hole though the end of the cap into the downspout. I put gutter sealant between the caps and downspout and screw them on. I test-fit the alignment, and make minor adjustments to the plugs if necessary. Then I apply gutter adhesive to the caps and slide them over the plugs. This provides a 3⁄4-in. standoff from the wall.
—David Hornstein, Sudbury, Mass.
Edited and Illustrated by Charles Miller
From Fine Homebuilding #296