Celebrating Efficient Post-and-Beam Construction
An old barn is transformed into a high-performance home that highlights the structure's original framing.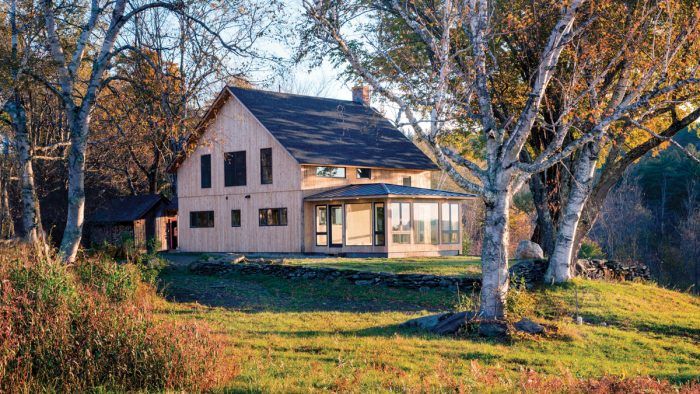 What began as a dark, old barn-turned-hunting cabin is now a light-filled high-performance home. The idea was to celebrate the framing structure, pay homage to the building's history, and better its overall performance.
In the kitchen, subway tile lends a classic look, but bringing it up to the ceiling—beneath and above the beams—gives it a modern feel, and calls attention to the framing. The original stairs were relocated, and the second-floor loft was reconfigured to allow for two small bedrooms and a bathroom. The middle room is centered on the window, which was enlarged, and on the peak of the gable roof. A beam crosses in front of the newly enlarged window in yet another effort to highlight the old barn structure.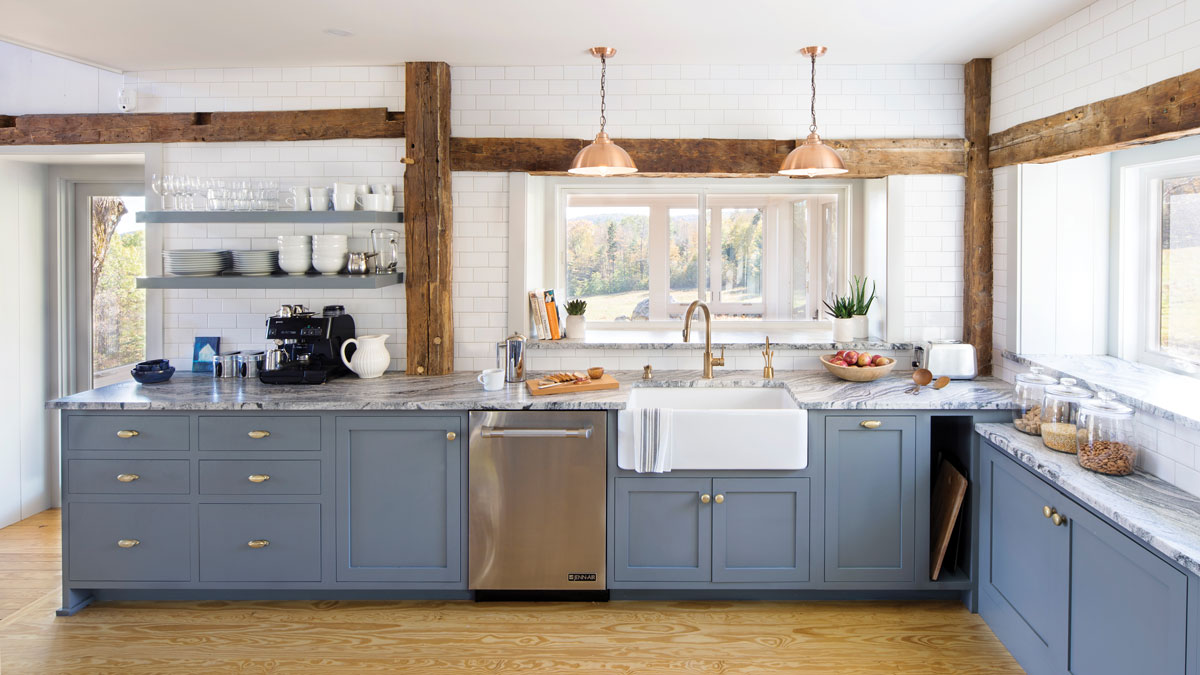 Some of the original siding was reclaimed to create oversize barn-door sliders, which not only provide privacy for the once-open bedroom but are an eye-catching design feature when viewed from the living room below. Other repurposed materials include the mirror above the bed, which had been the living-room window.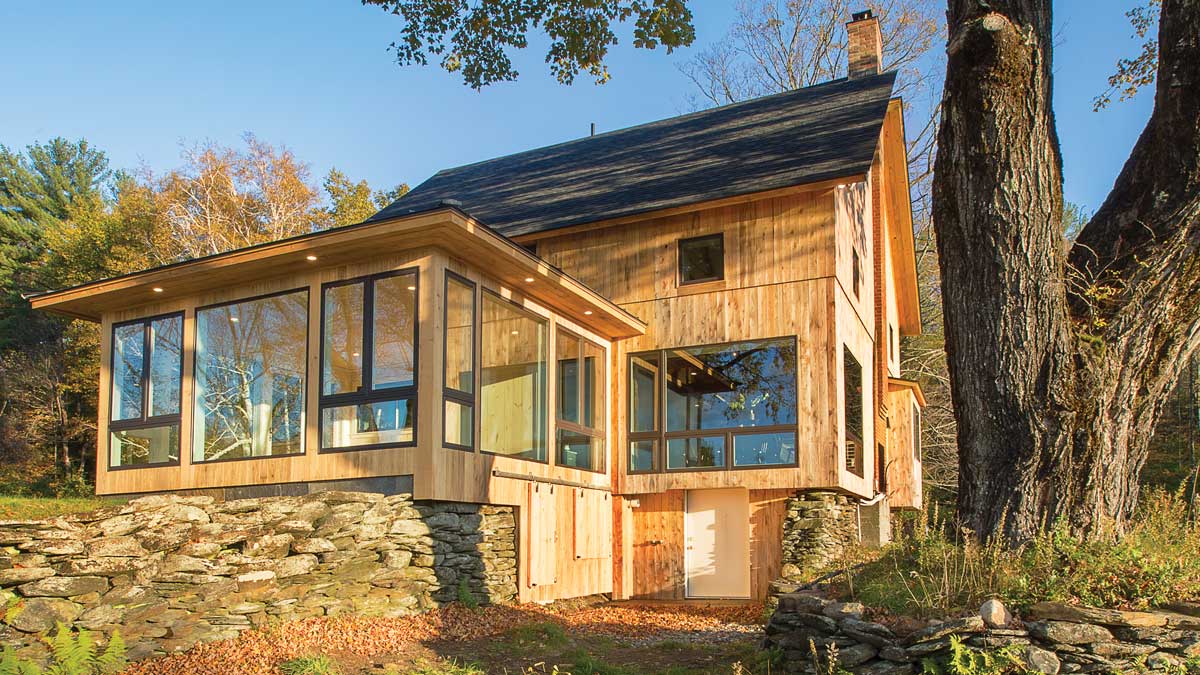 In addition to the aesthetic successes, the home's energy performance was drastically improved. The initial blower-door test result was a whopping 23 ACH50. Adding a smart air barrier and vapor-control layer, beefing up the insulation with dense-pack cellulose, installing double-pane Marvin All Ultrex windows and doors, and replacing existing siding with locally sourced raw hemlock vertical siding, among other upgrades, brought the house up to 2.3 ACH50. It's an energy-lean visual charmer, to say the least.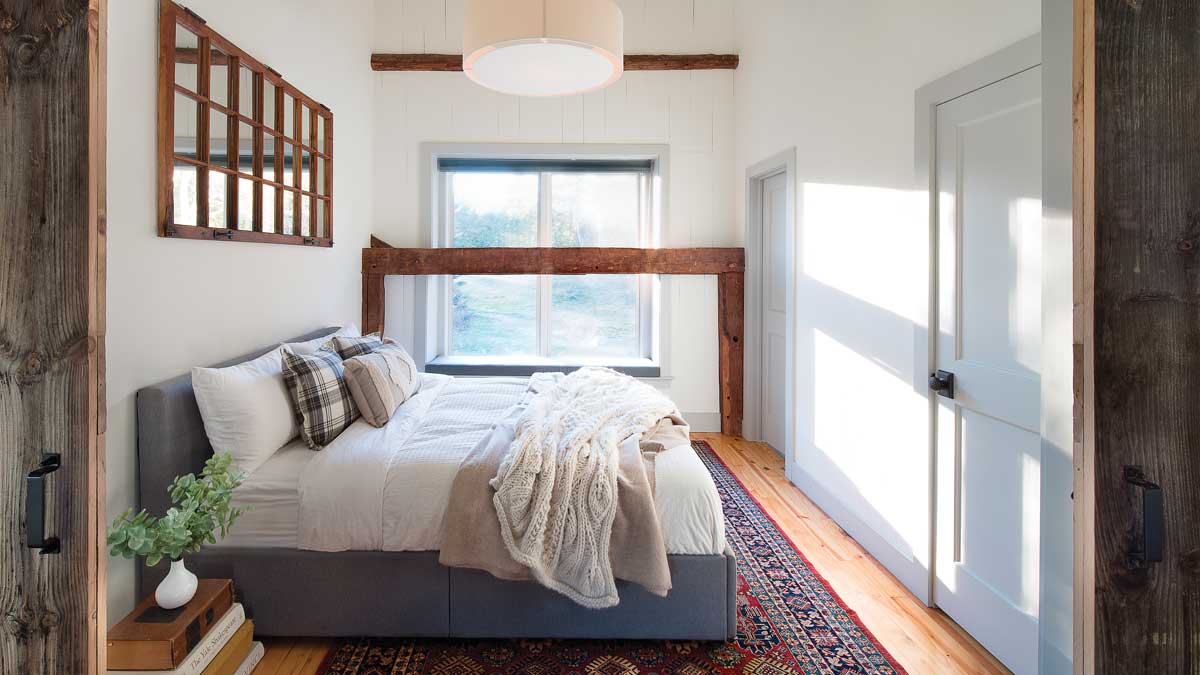 Designer Bluetime Collaborative, bluetimecollaborative.com
Interior designer Joanne Palmisano Design, joannepalmisano.com
Builder Webster Construction and Helm Construction Solutions, buildhelm.com
Location Southern Vermont
Photos Lindsay Selin Photography, lindsayselinphotography.com
From Fine Homebuilding #297