Third-Day at IBSx: Pure Learning
With the vendor booths offline, I focused on the educational sessions, including classes on energy-efficient construction details, the business of building, and smart design strategies.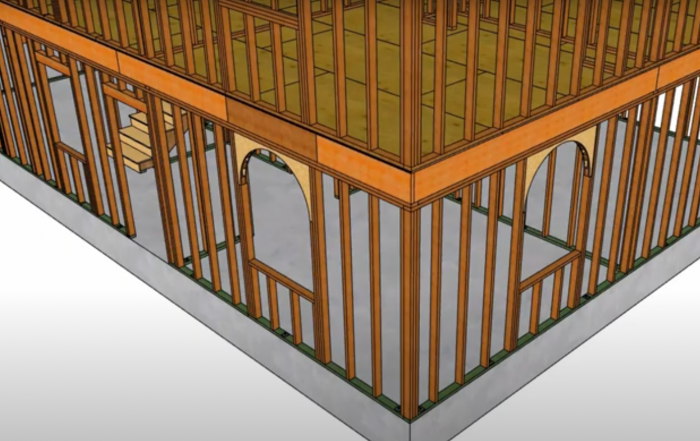 With vendor booths down due to technical hiccups, I could not hunt for cool new products. However, the educational venues remained open, and I enjoyed a day of learning, highlights of which I share with you. First some building tips. Next a little business. And then 60 design ideas that I picked up during a 60-minute marathon.
Practical Building Science
The educational events ran one after another like a YouTube stream, so it was easy to remain engaged. Although most topics covered don't break new ground for a seasoned builder, each presenter had a few neat tricks to impart. I cannot summarize the full half-hour. I'll focus on what seemed most valuable.
Advanced framing: Paul Springer, Dayton, OH, took us through framing techniques that boost energy efficiency. The basic tenant of what we call optimum-value-engineered farming (OVE), "Is getting rid of wood we don't need to make room for more insulation," said Springer. Thus, the 24-inch framing module reduces framing materials by about one third, reducing thermal bridging proportionately. I have been an advocate of optimum framing since the late 1990s.  Back then, techniques like single top plates were difficult to execute at joints and corners, we often improvised, but today's hardware manufacturers have come up with simple connectors, such as the single-top plate corner connector shown below.
Tips: When making a three-stud corner, use a piece of OSB or plywood as the drywall backer rather than 2-by. This saves a stud and gives more room for the insulation to fluff to full depth.
Tip: Instead of in the wall, place your header within the floor frame space to simplify wall framing.
Radon Ready Before or After You Test Positive: In this session, Matt Whitbeck showed us how to install or retrofit a passive radon system ready to convert to an active system if necessary. Whitbeck took us through a simple set of steps. These include a coarse aggregate base under the house slab with a perforated pipe around the perimeter (I like to add one down the middle, too, connected to the perimeter pipes at both ends). Over the aggregate, a layer of plastic sheathing is taped and sealed at the joints and the foundation walls.
The loop of perforated pipe tied into a conventional, $45 sump pit. But instead of the $15 lid that comes with the pit, Whitbeck used a Radon Dome ($110) with a sealed cover. I like the cover Whitbeck chose because it fits over the pit, not into the basin. These plastic basins often deform during the concrete pour, and it's hard to retrofit a tight-fitting lid.
The sealed dome provides a flange you can adhere to the slab surface and a gasketed lid with sealed apertures for the sump pump drain line, a silicone grommet for the power cord a location to screw coupling for the radon vent. Whitbeck placed a small plywood base and an electrical outlet to receive a future radon fan if testing revealed it's needed up in the attic.
Gift-wrapping a house: Matt Whitbeck began this session by explaining the benefits of a water-resistive barrier (WRB), including air sealing, impermeabilization, and vapor management. Throughout, Whitbeck emphasized the importance of being neat and precise as a cabinet maker with the WRB. For example, using a straight edge to create a tight fit inside corners to avoid wrinkling the membrane. Whitbeck explained that, when installing exterior cladding at this location, a loose WRB at the interior corner easily rips, compromising the air and water seal.
To begin the installation, level and line up your roll with the vertical nailing guide precisely on a stud. The nailing guides are like chalk lines run every eight inches, so you can place your nails at a 16-inch center (a stud every other line) or on 24-inch centers (a stud very three lines).
Tip: Keep the cap staples or nails away from seams, so when you tape the seams, the tape lays flat and creates a positive seal.
Of course, the session focused considerably on the installation of WRB at windows and doors, emphasizing the importance of wrapping the opening neatly and tightly so the window flanges can sit on an even surface seal securely.
I was happy to hear Whitbeck address permeability as an important factor to consider when choosing a WRB. Vapor management involves a whole-wall system – interior paint, drywall, insulation, exterior sheathing, foam board (if used), and WRB. That's a lot of layers, and deciding the proper perm rating for a WRB becomes challenging. It's hard to get your head around, even if the new code seeks to simplify specification. I encourage you to read Jay Crandell's upcoming article about vapor management nuances in the next edition of Fine Homebuilding.
IBSx technical issues: Oh well… at about noon, the "High-Performance Building Zone" went down and thus ended building technical educational sessions. As the General Building sessions on Zoom continued working, I switched channels. These sessions focused on business and design. Two topics I like, so I kept my elbows on the kitchen table and kept watching and learning.
Business of Building
Multifamily: With rent moratoriums in place, the multifamily sector is taking a big hit.  "Though the multifamily sector is performing much better than nonresidential construction, developers are facing stiff headwinds in 2021," said NAHB Chief Economist Robert Dietz. Zoning has also dampened the construction of "missing middle" housing (two-to-ten units), such as townhouses and higher density single-family.
While the 15-minutes, walkable neighborhood concept was predicted to rise, it fell. COVID pushed people to the suburbs.
A new trend in multifamily is the return of the urban village retrofit into retail malls suffering high vacancy.
Overall, for multifamily, the pandemic has been a real malaise. Especially since people have become aware that COVID-19 won't be the last pandemic. To overcome renter apprehension, a new type of multifamily is required to limit contact in public areas. In other words, apartments without elevators, interior hallways, or common areas, such as lobbies.
In short, multifamily starts are expected to fall 11 percent this year to 349,000 units from a projected total of 392,000 in 2020. The downturn will be short-lived, as multifamily production is expected to post modest gains in 2022, up 5 percent to 365,000 units, according to NAHB forecasts.
Selling More Homes: Although selling more jobs is not a pressing problem for most builders today, I found the insights provided in this session compelling. John Palumbo analyzed what AI can do versus what you can do with human empathy, charm, and the ability to motivate. Essentially, he said the best app available to improve sales is your charm. Palumbo advised working on your personality. He recommends recording yourself during a sales presentation and then watching the video critically. You'll learn a lot about yourself and how others respond to you.
Takeaway tips: In our masked world, Palumbo stresses the importance of developing expressiveness through your eyes. Smiles begin at the eyes, he says, and finish at the ears. Work on this with a mask on in front of the mirror.
While an appealing smile is the trademark of great salespeople, the ears also count, but not simply to listen. You must hear what the customer is saying. Focus on understanding your customer, not thinking about what you should say next. Listen, hear, and respond. Although you may have a goal to close the sale, this practice of hearing what's said initiates the relationship you want to build. Avoid the robotic or formulaic exchanges we all hate when dealing with scripted customer service agents. Your presentation should never be the same from one customer to another.
Like a great actor, match your client's emotion, generate positive feelings, and respond in the moment.  In short, use your ears to hear, use your eyes to express, and feel the moment to build trust make your customer feel understood.
Pants optional: One session focused on maintaining company culture while employees work from home. The discussion ranged from software for time tracking (helps you estimate how long things will take in the future) and rewarding employees when they cannot see a smile or a thumbs up. One panelist said his company gives out virtual tacos as kudos. This comment generated many chuckles and comments, with some suggesting tangerines (healthier), but all loved the idea of virtual prizes.
Tip: Always talk with others in the company via video instead of the phone, so people feel connected.
All panelists agreed that, although the volume can become overwhelming, you never criticize someone for overcommunicating – too many emails, etc. A high level of messaging is necessary for our new environment. However, there should be time to work alone and concentrate. One company uses "flow time" to indicate that this person will focus for hours and not reply to calls, messages, or emails.
One panelist encourages employees to greet each other in the morning, by email or video – good morning! And to share personal events, "My kid got an A+ on his history assignment." Thus, to deploy the common courtesies of everyday communications, including, "I'm going to grab lunch, be back in half an hour," and "I'm logging off for the day, goanna go have a beer, see you all tomorrow!"
Takeaway tips: Spend as much time developing your company's cultural aspects as you do on operations. The longer someone works from home, the more important it is to help them keep connected. Study the concept of trust. Learn why you don't trust people and figure out what's getting in your way, as trusting employees will act responsibly is essential for the remote manager.
Going remote allows you to find the most talented people anywhere in the nation, and you don't have to pay for them to move.
However, sometimes face-to-face is more effective, so you cannot stay remote all the time. With a large room, you can safely accommodate the occasional in-person, mask-on, socially distanced, in-person meeting.
Design Ideas for Every Minute of an Hour
60 Design Ideas in 60 Minutes:  One of the signature sessions at IBS shows have always featured 60 Design Ideas in 60 Minutes.  So, I joined the 60 in 60 panelists to get my fill. The master of ceremonies was Dawn Duhamel, and the panelists: Brandon Bryant, Seth Hart, Wayne Visbeen, Pierrette Tierney, Jill Mastrostefano, and Laura Sullivan. It was tough typing with an idea per minute, but this is what I managed to scribble down:
Make the stairway a focal point of the home. Add shelves, wine cases, make it memorable.
Add drama with high ceilings but keep the human scale by defining activity areas, such as by raising the ceiling over specific rooms alone.
Consider trapezoid windows at gable ends. While this adds volume and light, it preserves privacy.
Create retreats – rooms – even if small spaces. These details are precisely what residents most love in their homes.
Create flex spaces, even small ones in found places.
Incorporate an ADU (such as a granny cottage) to the main house. For example, place the ADU over the garage rather than as a separate unit.
Outdoor living is critical. With bi-level patio/balcony combinations open more options for outdoor spaces, both private and social.
Create a vacation feel in a home. A home in Washington DC could feel like a home in the Hamptons or a retreat in Colorado's mountains.
Use photography to create the away place, so home is not just the life you live but also the one you wish you did.
Use hallways to create kids' craft areas, home offices, usable space, even if bookshelves.
Keep the same feel throughout the whole house, not just the social areas. Continue the concept through every room, even utility rooms.
If you have high ceilings, hang drapes from the ceiling, which accents the wall heights. Even if the windows are lower.
Kitchens must be treated as furniture. Include open shelves, more windows, and put a lamp on your countertop. Make it interesting to look at.
Attach the dining room table to the kitchen island to integrate the cooking and eating as a social event.
Look to couture for color trends – fashion always leads in color trends. Look at your client's wardrobe to know what colors they prefer.
Consider lighting as the "jewelry of the outfit" (i.e., home). Have lightning have a starring role in the room and not be an afterthought.
Find out what clients collect and design to feature their prized pieces. If merchandizing a house, use found pieces to create a less traditional look.
Get rid of the hearth, elevate the fireplace so you can use all your square footage. Simplify the mantel.
Don't over-do the windows. Leave plenty of room for art.
Selling homes is about creating memory points.
If you're a green builder, remember that green should not equal ugly—blend green into a great design. There's no point in making a building durable if it's not also timeless.
Green building is more than energy efficient. However, consider temperature as part of the homeowner experience and consider energy-saving, zoned comfort. This way, your house can have multiple uses (comfort zones) simultaneously. One room could be 65 degrees for exercise and another at 72 for watching TV. The concept of one thermostat, no matter how intelligent, is old technology.
Install edible landscape to appreciate the land around your dwelling as it was meant to be, the generative force of livelihood.
Bring nature indoors, be green with plants that provide better air quality and emotional wellbeing.
Consider green interior paint that evokes similar emotions.
Image 15
Sustainable is not necessarily healthy. Use wall finishes that purify the air. A new house should smell like… well, nothing at all.
Vinyl flooring is immensely popular but toxic. Tile seems nontoxic but consider the additives in grouts and caulking. Engineered wood flooring has substrates that may drive off-gassing, even if the stains have no VOCs. Consider all the elements, not just the main components in all the finishes you choose to install.
Remember that biophilic is more than a connection to exterior views. It implies smells, sounds, and touch. Consider using live edge wood counters, interior planters, water features, and even interior herb gardens.
Look for solid wood in cabinets and furniture, avoid the VOCs in wood composites and add durability.
Hiding certain rooms is important for the work/life balance. Think of ways to hide monitors and printers. Allow the home to change use from work to family life without reminders of activities that are not appropriate to the time of day.
Consider murphy beds to create an extra room in a dining room or family room.
Take advantage of double-sided fireplaces to create outdoor and indoor adjacent living areas.
Consider outdoor counters off kitchen windows so folks can sit outside and enjoy refreshments without tracking sand or dirt into the house.
Take advantage of the space under the stairs and at stair landings.
Pantries should be large enough to store appliances and use them for prep cooking and sanitizing, so the kitchen remains uncluttered.
If you have basements, build them with ten- and twelve-foot-tall walls to create an interior sports facility.
Burn your wood. The Japanese art of Sh0u Sugi Ban (charring wood) on wood siding can add a unique touch.
Supersize mudrooms and laundry rooms because people love (and need) these nowadays.
Add study spaces in addition to the home offices.
No wall color, cladding, or artwork beats glass. Add lots of glazing to advantage the views.
Tips: Functional flex spaces are critical to today's buyers. People clearly need nature. We go crazy stuck inside. Bring it in and allow your buyer's easy access to the outside. Health is real. Consider every element and its effect on human health.