Big Takeaways From Presentations at the Builders' Show
From a conversation with "Dirty Jobs" Mike Rowe, through a home-buying market update, to buyer preferences for 2021 and a look at a few of the latest in-home office, closet, and kitchen features, here's what I saw on the last day of IBSx.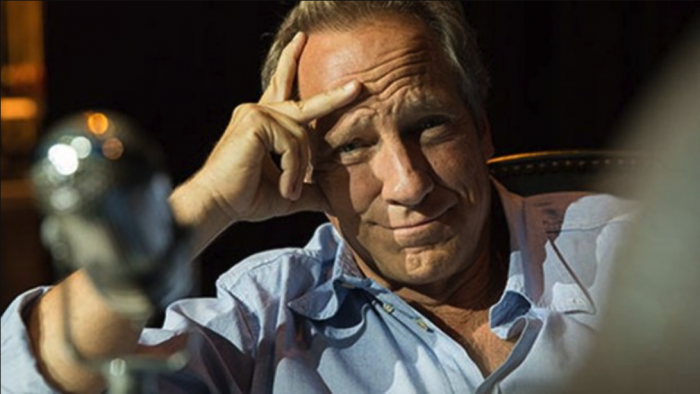 Conversation with Mike Rowe: A Look at Workforce Development
Always charming but brutally direct, in his IBSx keynote speech Mike Rowe emphasized that the labor shortage in construction comes from a bad public relations campaign. The issue is cultural. People no longer feel amazed by the daily miracles workers provide—flip a switch, and the light turns on. Society doesn't appreciate this. To fix this cultural blindspot, we need to do two things: Do a better job telling the individual success stories for those in the trades. And shame those that prolong the stigmas that make kids feel that work is not cool. "Get rid of the language that describes a four-year degree as higher education and everything else as alternative training," said Rowe.
Today, the cost of a four-year degree outstrips the increased cost-to-value ratio of almost any investment, including houses. "It's too expensive for what it's worth," said Rowe. Compare a college education to a welding certificate and what a competent welder earns. While many career academic career choices can fall short, "You've nothing to apologize for your business," said Rowe. "The opportunities are there."
Unfortunately, there's no magic bullet to change culturally ingrained attitudes. Yet, "We have the facts on our side," Rowe emphasized. We need to celebrate the stories of all those prospering in the trades. "It's hard. It can be done." Rowe cited the example of the Don't be a Litterbug campaign. "We were pigs, but we learned, and now we generally don't litter."
"The divide in our country that worries me most," said Rowe, "is the divide between those that believe there's no opportunity left in the United States and those that know for a fact there is." Like those in our industry that see it every day. We see the unfilled positions and the great livelihood available to anyone willing to work. We must tell that story and shout it from the rooftops to solve the labor crises.
Business
Forecast for Remodeling: During a press conference, NAHB economists discussed prospects for the remodeling market. Although remodeling experienced a steep decline at the outset of the pandemic, during March and April 2020, spending rebounded and then some. NAHB predicts that remodeling activity will increase four-percent in 2021 and increase two percent in 2022. Spending on single-family remodeling is expected to reach $285 billion this year.
How do Millennial Buyers Differ from their Parents?
Design
Post-Pandemic Home Design with Andrés Duany
Always interesting to listen to, Andrés Duany, celebrated architect and city planner, sits down with the folks at NanaWall to tell us what he sees as the future of post-pandemic housing. If you're familiar with New Urbanist strictures and stylings, you'll see much has changed. Always looking ahead, Duany sets a new direction for the movement.
Authenticity Sells: Curb Appeal that Makes a Lasting Impression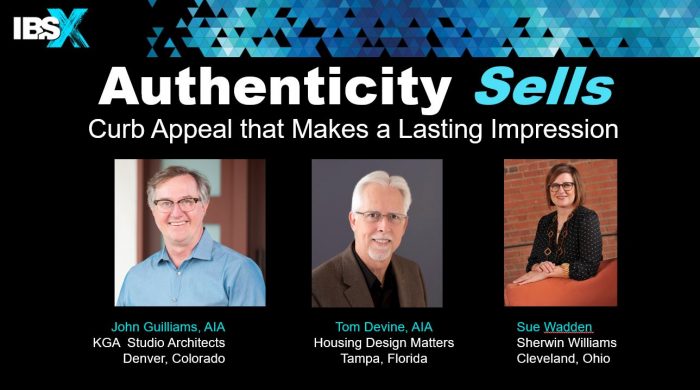 "Authentic" doesn't have to mean "historic." This session focused on achieving a balanced façade using the basic proportions of good architecture. As a simple guideline, use simplicity in the massing – or volumes — of the house with tasteful restraint in the use of materials and colors. Relying on local materials and referring to local colors can help limit the errors some builders make when trying too hard to create a "wow" factor.  The presenters meant regionally appropriate materials (those that exist in nature in the local area). The colors occurring naturally in those materials, be they an argent cedar, or a bronzed, adobe-like stucco, colors typical of the surrounding neighborhood will result in a more refined and tasteful appearance that fits in – local will generally cost less, too.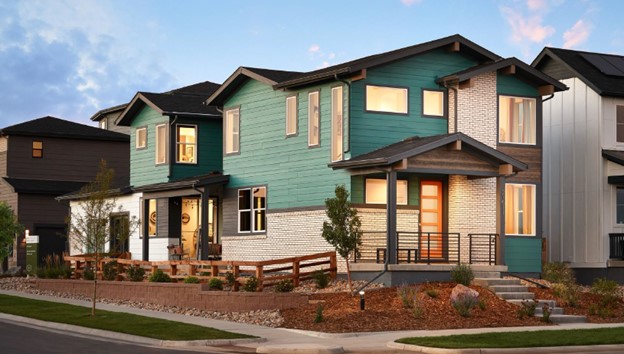 Home Trends, Buyer Preferences & Most Likely Features for 2021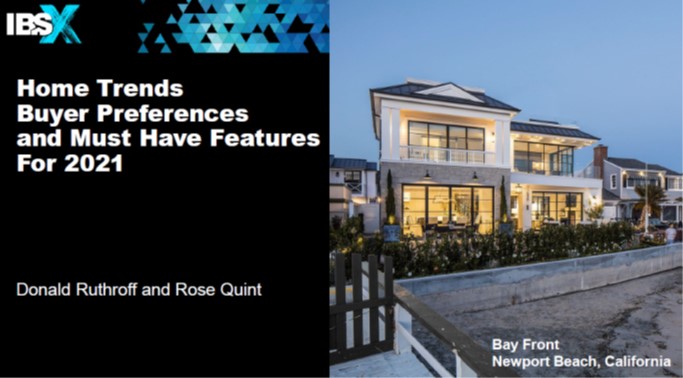 One notable change, houses stopped shrinking, and buyers prefer more bedrooms and bathrooms. While the average-sized home remained flat at 2,486 square feet, the percentage of households with four or more bedrooms and three or more bathrooms rose to 46-percent, approaching 2015 peaks. Economists predict that average home size will resume its relentless increase during 2021.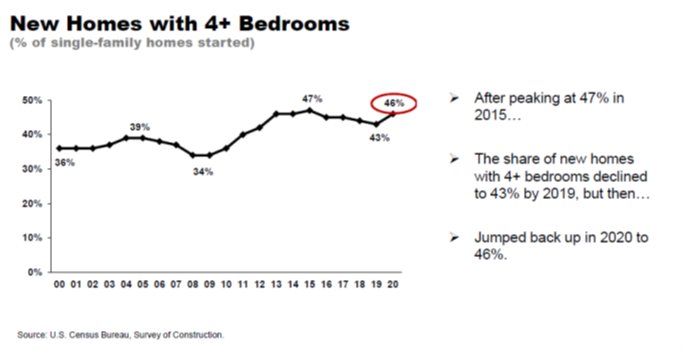 COVID-19 led has led buyers back to the suburbs. The movement away from urban centers, driven by growing interest among minority home buyers, said Quin. She also pointed out that 60-percent of buyers prefer new construction. The preference for new driven, in part, by buyers "concerned about touring other people's homes," said Quin.
As they do each year, NAHB also examined preferences among buyers. This helps builders determine what features are most likely to appeal in 2021. In general, most people prefer traditional homes, but 24-percent choose contemporary styles. Among the least wanted features are wine cellars, pet wash stations, golf courses, and granny cottages.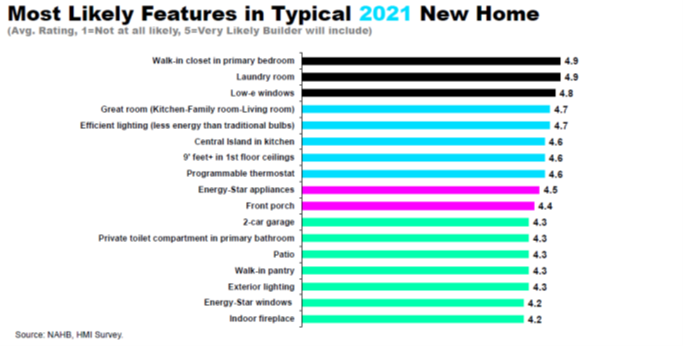 The top features mirror almost exactly the desires potential buyers expressed last year:
.               Laundry rooms
.               Exterior lighting
.               Ceiling fans
.               ENERGY STAR windows and appliances
.               Patios and front porches
.               Kitchen double sink
.               Walk-in pantries
Outdoor spaces continue to represent a popular amenity, with the connection between indoors and outdoors become more seamless.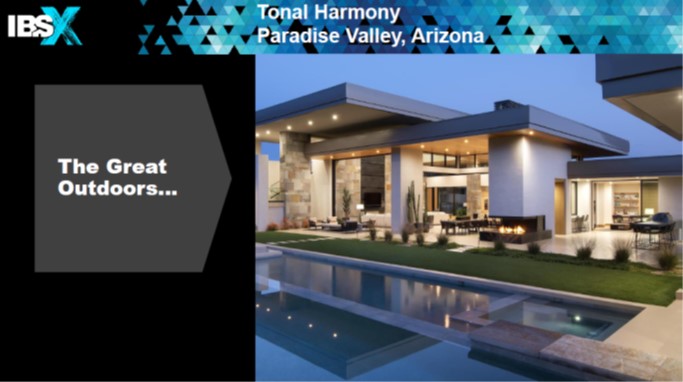 The pandemic had little effect on 67-percent of buyers, but about 25-percent changed their preferences in response to COVID-19. Households with teleworkers and virtual students drove the segment most affected, desiring home offices and larger homes.
Home Office & Living Space – Virtual KBIS 2021
Closet & Garage – Virtual KBIS 2021 Trade Show
Kitchen – Virtual KBIS 2021 Trade Show
The New American Home