Connected in Antiquity
Old and new is combined in this modern take on the classic connected farmhouse, with a Greek-revival home at one end and a barn at the other.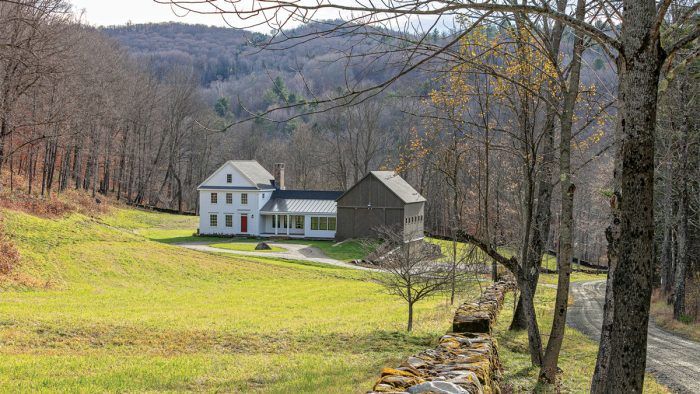 The owner of this house, a contractor, partnered with SV Design, Siemasko + Verbridge and Ennis Construction to build a classic New England connected farmhouse with a Greek Revival home at one end and a timber frame barn at the other. Joining the two is a metal-roofed space housing the kitchen, mudroom, and living and dining areas. The owner's passion for the antique barn frame drove the design process of marrying old and new in a tasteful way that brings wood–some salvaged and some new, some treated, and some naturally weathered—into several areas of the house, including the kitchen ceiling, kitchen island, interior sliding barn door, bathroom shelves, and fireplace mantel. Having the communal spaces echo the rustic nature of the barn fulfilled the family's desire to keep the interior finishes from feeling too dainty. Visually interesting scissor trusses engineered with reclaimed hand-hewn beams address a structural need for the vaulted ceilings, and with custom fabricated steel through-bolts, they also re-enforce the rugged aesthetic. For durability, the beams are oak, as are the floors, where circular saw marks add to the aesthetic. The white-washed kitchen ceiling and old reclaimed boards offer a variety of contrasting textures and tones. Leftover wood was put to good use in the basement to create ski racks and wrap lally columns.
Designer: SV Design, Siemasko + Verbridge
Builder: Ennis Construction
Project Location: Pomfret, Vt.
Photographer: Jim Westphalen Photography and Jim Mauchly
From Fine Homebuilding #300