Tools & Materials
Book Review: Builder
In Mark Q. Kerson's book of interviews, a collection of 28 builders share valuable building and life experiences.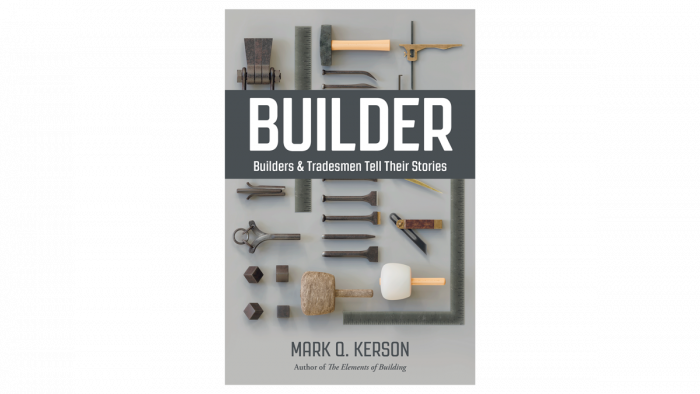 You'd think that by now I'd have read The Elements of Building, Mark Q. Kerson's highly-recommended book on the business of building. But I've never run my own construction company, so I haven't. When Mark's new book, Builder, arrived a few months back, the subtitle struck me: Builders & Tradesmen Tell Their Stories. If I've avoided the slog of learning about the business of building, I do like stories, and have now read a lot of this book of interviews.
Mark's questions are straightforward and repeated in most of the builders' interviews. This allows him to weave a narrative throughout the book with themes that include the nature of craft, the role of education for builders, the intersection of craftsmanship and business, and the value of learning from mistakes. There is wisdom in Mark's questions, but he doesn't belabor his introduction. He doesn't even take the time to explain the format of the book, though you'll pick it up quickly once you read a few interviews. One of my favorite parts is the word association: Mark provides a list of words like "integrity," "profit," and "gratitude," and the builders share what that word means to them. It's an easy-to-read, insightful part of each interview.
Fine Homebuilding readers will recognize a few names in the table of contents. Dan Kolbert, Matt Risinger, and David Gerstel are among the 28 builders Mark interviewed, but every person included has valuable building and life experience to share. If Builder is a bit folksy, it's equally full of wisdom from seasoned professionals. You'll find it in paperback for under $30.
–Brian Pontolilo, editorial director
Originally published in Fine Homebuilding issue #301titled "A Builder Full of Wisdom"