Podcast 392: The Best Roofing for PV, Shades to Save Energy, and Taming a Bay Area Energy Hog
Brian, Mark and Patrick hear from listeners about shop teachers and tape for poly sheeting, before taking listener questions on the right roof for a future PV array, controlling radon, and improving the efficiency of a Bay Area house.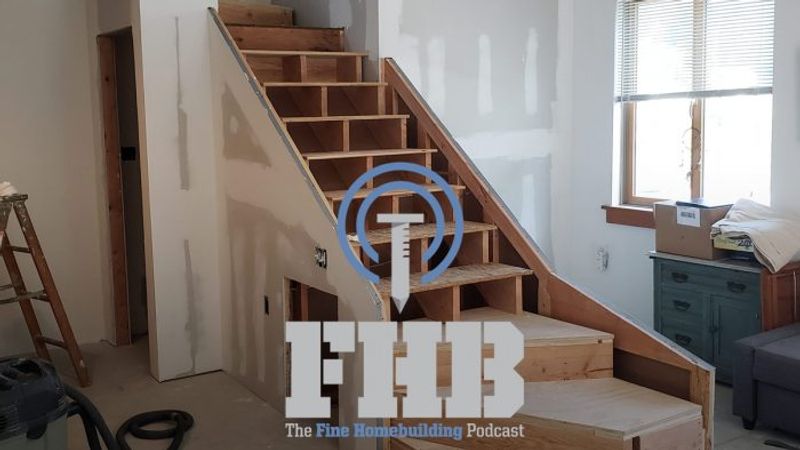 ---
Follow the Fine Homebuilding Podcast on your favorite app. Subscribe now and don't miss an episode:
Help us make better episodes and enter for a chance to win an FHB Podcast T-shirt:
www.finehomebuilding.com/podcastsurvey
Doug shares thoughts on his time teaching. Paul clues us in to blue tape for poly. Carson has an idea for what to do with waste wood chips. Andrew suggests respirators for kids. Pete asks what kind of roof he should install if he wants to add PV panels later. Mark asks if he should include a radon mitigation strategy in his new home. Steve furthers the conversation on installing shades to increase comfort. Diazswag asks how to lower his energy costs.
---
Editor Updates:
​
---
Listener Feedback 1:
Doug writes: Hi Patrick, as a retired high school teacher, I could really relate to your interview with Roy Horne. I started teaching in 1974 at a large high school in Omaha, Nebraska. My area was tech theatre but at the time it was considered part of I.A. I also taught English but it was more fun to go to the I.A. department meetings. I had a department head who really knew how to work the system to get what was needed in the way of tools and such. It was a great help for a new teacher. When I started, the main building housed two large wood shops, a print shop, and classrooms for architectural drawing, electronics, and electricity. There was a separate shop building that housed auto mechanics, auto body, machine shop, metals, sheet metal and voc, ag (The district had a school farm near Omaha).
In the late 80s planning began for a major renovation. This was at a time when the push for every student to go to college was at its strongest. As a result, the shop building was torn down and replaced by a spectator gym. Below it was an area that contained what was left of I.A. There was an AutoCAD lab, a classroom and a large open area that was used as a combined wood and metal shop. This district moved auto, machine shop, and electronics into a former school building for all high schools. This meant that students had to have room in their schedules for travel time. It was felt that no one school could afford the upgrades needed for areas such as auto mechanics and machine shop. Things have been changing here in the Pikes Peak region. Schools have been adding programs for the skilled trades as people recognize the need. With the mounting debt incurred by students in 4-year schools, there has been increased awareness of the good jobs going unfilled in the trades. Time will tell if this lasts or what new direction the pendulum will swing.
---
Listener Feedback 2: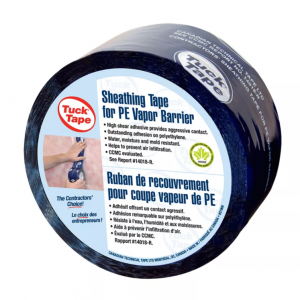 Paul writes: Hello from London, Ontario, Canada.
There's a blue tick tape specifically designed for polyethylene vapour barrier (here's the listing from Home Depot Canada).I live in a two-floor, 1450 sq.ft. semi-detached house with the gable wall facing west (the party wall on the east side consequently). Back in the mists of time you mentioned Acu-Rite as the only accurate hygrometer available. I bought one about a year ago.
Thank you Fine Homebuilding and Mike Guertin for his video series on attic air sealing. After partially air sealing in the attic (mostly at the top plates on interior walls) in the autumn, I found last winter that I didn't need a humidifier. The humidity varied between 42 – 51 %, This summer has been fairly hot and with the thermostat set to 22 degrees Celsius 24 hours a day. the peak temperature in our hottest room on the ground floor was usually 25 degrees Celsius with as low as 32 % humidity just after sundown.
The second floor is noticeably cooler this summer due to the reduced stack effect and the lower humidity. One bad thing is that my skin is too dry year-round! When I finish air sealing, I am probably going to have to install a heat recovery ventilator in order to ensure enough fresh air. I guess I will avail myself of the recently announced Canada Greener Homes Grant.
Related Links:
---
Listener Feedback 3: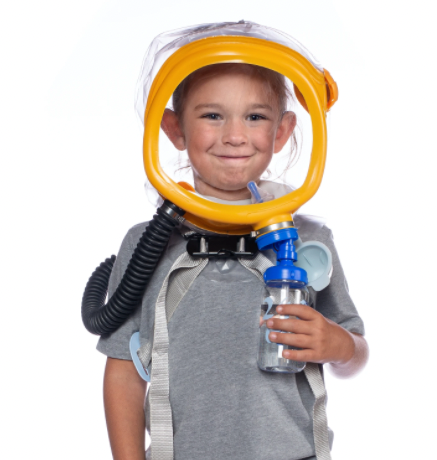 Andrew writes: Hi all, I was going to say that there probably isn't a full face respirator for kids, but a quick google search reveals this unintentionally hilarious item of questionable value ($549!) That being said, there are a few great disposable respirator options for 3 year olds: Youtube: Kids Mask For 12 & Under – A Primer for Parents in Under 20 Minutes.
The usual caveats apply; it has to fit and seal well. If he's really worried about his kid he should probably buy a qualitative fit test kit to make sure it actually fits, but they are quite expensive.
From the video above he recommends:
The Bio U&I Toddler Mask
HappyLife Gooday Kids Mask – XSmall
Wellbefore Kids KN95 Petite X-Small
He's not sponsored by any of these stores (nor am I) and as far as I know he selected them on the basis that they reported they were buying directly from the manufacturer/the manufacturer confirmed they were an authorized distributor. I would avoid Amazon in general because they co-mingle inventory, so for example, if you place an order from a reputable seller for some 3M N95 respirators, it's entirely possible that your order gets filled using inventory from a completely different seller. So for any item that is sold by Amazon, or shipped/fulfilled by Amazon, there is no way to actually know which seller the items in your order were supplied from — the only thing that "Sold by Amazon" means is that Amazon sets the price.
Hope that helps,
Andrew
---
Question 1: What type of roofing works best to support solar panels?
Pete writes: Patrick, Wow!!!! Heard Brian's project for building a new house—what a dream and pretty much what I dream about! I look forward to hearing more from Brian and the crew on this; hope you talk extensively about it. It did raise two questions I'd like to get the team's responses on.
1. Thinking photovoltaic with a new build and planning for this from the outset–I understand that there is loading so structure needs to support this. However, with a clean slate, what type of roofing works best? Same level/quality for under the panels as everywhere else? How about the panel supporting structure and keeping the penetrations to the rook structure watertight and maintenance free?
2. Decks, we all love them and they are usually the first thing to put off when value engineering; they can always be added later. However, with a new build, knowing that you will add a deck/porch/etc. would you do something different with the framing, foundation or cladding in these areas?
Thanks, looking forward, hopefully, to some discussion on these topics; and, GO BRIAN!!!
George Hart writes: Hey Patrick, The word "best" means many things to many folks. Best looking? Easiest to install? Longest lasting? Most economic? It's all about what the end user values at a personal level. Personally, I love a standing-seam metal roof for solar panels. The mounting clamps are non-penetrating and easily re-positioned. Depending on the pitch, they can be tricky to install because the material can be quite slick but I think the finished product gives a clean and modern look. There are also some really interesting products for the terracotta tile market that look cool, but I haven't had much experience with them. 
Related Links:
---
Question 2: Should I add a radon-mitigation system to either of the two dwellings on the side of the garage?
A listener writes: I'm building a house with a mother-in-law suite on one side of the garage and the main dwelling on the other. The mother-in-law suite is going to have a crawl/storage space under it, while the main house is slab-on-grade. Radon mitigation systems are not code in my area. Do you think I should add a system anyway to one or both sides, and what's an effective yet easy and inexpensive way of installing one?
Related Links:
---
Question 3: Do shades actually work to achieve a comfortable temperature?

Steve writes: About a year ago, you guys talked about a comfortable combination of ambient temperature and heat radiating off of a surface (e.g., a floor) or a fire. The gist was you can be comfortable in a 70-degree room or a cooler space with a fire radiating heat.
Maybe shades isolate the radiating heat, making the room feel more comfortable. Without shade, lots of surfaces are warmer while with shades, most surfaces remain cool even though the shade is radiating a lot of heat. It's easier to step back from a shade than step away from a warmed floor which is likely closer to the middle of the room. I guess the question is whether the tests that showed shades don't work measured both air temperature and how dispersed the radiating heat is. If this is an intelligent thought, you're good teachers! Thanks for the care you put into your podcast!
Related Link:
---
Question 4: What are the most important upgrades I should make to reduce my winter utility bills in California?

Diazswag writes: Daly City, Ca. is the location to be exact. I pretty much feel like I spent a fortune buying a really crappy house (as far as building science goes) The heating bill is astronomical. I went from an apartment building paying about $50 for all utilities a month, to about $500 per month on just electricity/gas in the winter months in this new house. What are the big bang for the bucks upgrades I should do?
There's no insulation in the house. It's using knoband-tube wiring everywhere, so I've been hesitant to add insulation. However, most contractors I've spoken to said knob-and-tube should be removed, and it's safer, but for the price, and hassle, it's better to just risk putting insulation over it, since it's relatively safe, and most likely won't have any issues.
Most big appliances are gas, like the furnace (80% efficiency 60k BTU), stove, laundry dryer. I recently replaced my water heater to a hybrid heat-pump water heater since it had to be replaced anyway and there's a rebate in my area currently. Not sure if I made the right decision because I realize electricity is one of the highest in the nation here in this area.
Windows are mostly double pane windows, not sure what brand. But it's probably not a super high-end brand. There's a few windows that are still those aluminum frame, single pane, but just a few. Crawl space is also vented, not sealed/encapsulated, but not sure if it warrants sealing in my area's climate. I may be considering solar panels in the near future. Any advice would be appreciated! Thanks
Related Links:
---
End Note:

Midwest Building Science Symposium:
KC BS+Beer Society brings the Midwest Building Science Symposium to residential home construction professionals and provide them a chance to discuss challenges and hear solutions from today's leading experts, as well as network with other professionals from their region.
The education event, led by key industry thought leaders such as Peter Yost, Steve Baczek, and Mike Guertin will have educational tracks focused on elevating building practices, from understanding building standards and integrating performance components to providing a durable, energy-efficient building enclosure.
Designed for builders, contractors, code officials, HERS raters, architects and channel partners, the events will offer in depth and technical solutions to challenges faced by the single family housing industry.
AND
GBA.com: New York Times Honors the Best Architects
---
Check out our latest Project Guide: Siding & Exterior Trim!

Check out our new 2021 FHB Houses: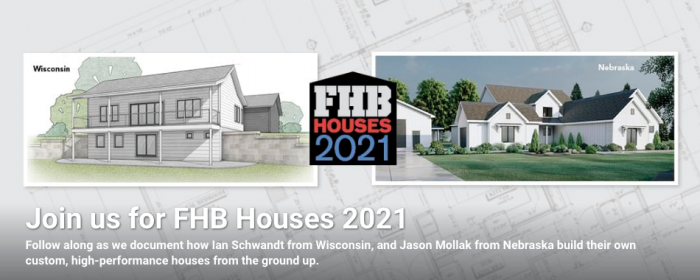 Visit the Taunton Store  •  Magazine Index  •  Online Archive   •  Our First Issues   •  All Access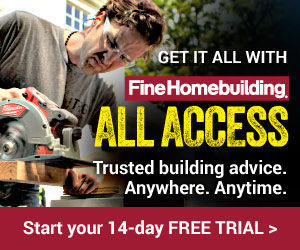 ---
Help us make better episodes and enter for a chance to win an FHB Podcast T-shirt: www.finehomebuilding.com/podcastsurvey
---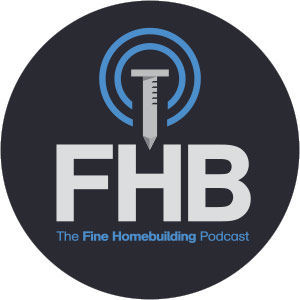 If you have any questions you would like us to dig into for a future show, shoot an email our way:

[email protected]

.
If we use your question we'll send you a FHB Podcast sticker!
---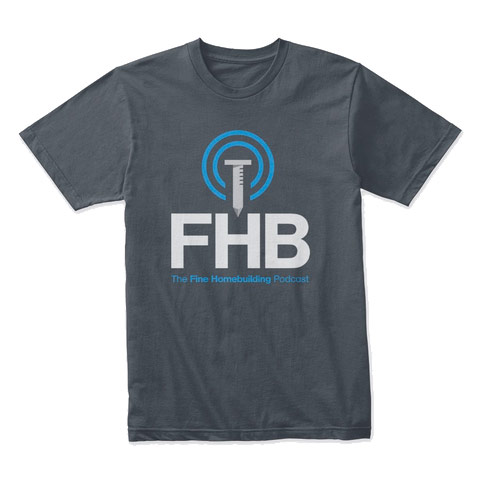 FHB Podcast T-shirts!
Represent your favorite podcast! Available in several styles and colors. Made from 100% cotton. Find the Podcast t-shirt and more cool products in the Fine Homebuilding Store.

---
This episode of the Fine Homebuilding podcast is brought to you by Benjamin Obdyke.
Benjamin Obdyke would like to thank the nuisances that builders and homeowners despise. Our premium products protect from those pesky things like rain, snow, UV rays and the neighbor's sprinkler system. Take HydroGap SA, the first self-adhered drainable housewrap that combines a true air barrier and drainage gap. Or InvisiWrap UV, an all-black WRB, perfect for long-term moisture protection behind open joint siding. Backed by an unmatched 25 year warranty, Benjamin Obdyke's UV-Protected Rainscreen System not only features InvisiWrap UV, but HydroFlash UV+, a high performance, vapor permeable flashing tape. Visit benjaminobdyke.com to learn more about their comprehensive, durable systems.
---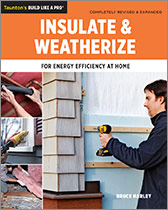 Fine Homebuilding podcast listeners can now get 20% off anything in the Taunton store, including Insulate & Weatherize.
Use the discount code FHBPODCAST to take advantage of this special offer.
---
We hope you will take advantage of a great offer for our podcast listeners: A special 20% off the discounted rate to subscribe to the Fine Homebuilding print magazine. That link goes to finehomebuilding.com/podoffer.
The show is driven by our listeners, so please subscribe and rate us on iTunes or Google Play, and if you have any questions you would like us to dig into for a future show, shoot an email our way: [email protected]. Also, be sure to follow Fine Homebuilding on Instagram, and "like" us on Facebook. Note that you can watch the show above, or on YouTube at the Fine Homebuilding YouTube Channel.
The Fine Homebuilding Podcast embodies Fine Homebuilding magazine's commitment to the preservation of craftsmanship and the advancement of home performance in residential construction. The show is an informal but vigorous conversation about the techniques and principles that allow listeners to master their design and building challenges.
Other related links