Garland Wood, Master Carpenter
This master carpenter keeps 18th-century techniques and processes alive in the construction of colonial-era buildings.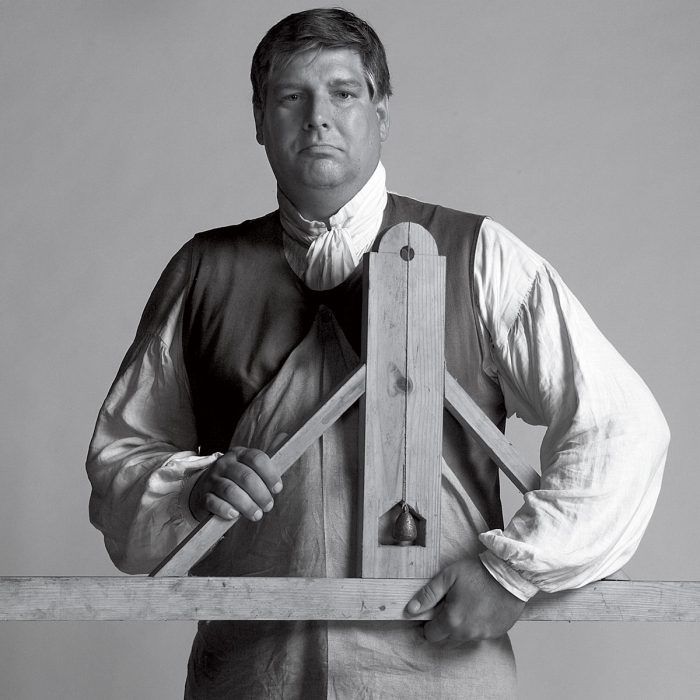 "Building a house is simply a matter of solving problems. I can only use 18th-century solutions. "
– Garland Wood, Master Carpenter, Williamsbury, VA.
In the summer of 1982, after his junior year of college, Garland Wood took a six-week job at renowned Colonial Williamsburg, the world's largest living history museum. He was hired into the carpentry department, at the time a fledgling two-year-old program, and worked under carpenter Roy Underhill. Roy was the very first master carpenter at Colonial Williamsburg and the energizing force behind the institution's approach to building traditional homes completely by hand while providing the public the opportunity to watch. His influence on Garland was immeasurable. Garland would spend another 38 years at Colonial Williamsburg, helping exponentially expand the historical trades program, constructing 50 of America's most treasured buildings, and rising to the position of master carpenter himself—only the second person to be given the designation in the foundation's history. 
Garland oversees a crew that employs exclusively 18th-century techniques and processes in the construction of colonial-era buildings. From pit-sawing pine boards, hand-hewing timbers, and hand-splitting shingles to cutting and raising timber frames in the Tidewater style and laying up handmade bricks in oyster-shell mortar—the painstaking approach to historical accuracy in the work is nothing short of incredible. Garland and his crew spend nearly 60% of their project time just milling and producing the materials of a build. And they will spend many months raising a home or village building on a new brick foundation in the very same way it was done over 240 years ago—teaching fellow tradespeople and the public throughout the entirety of the process.
Hear Rob Yagid's interview with Garland on the Keep Craft Alive Podcast.
—Rob Yagid, executive ­director, Keep Craft Alive
From Fine Homebuilding #303
---
RELATED LINKS