House of Four Gables
The remodel of a 140-year-old two-story home maximizes floor space and is designed to take on another 100 years.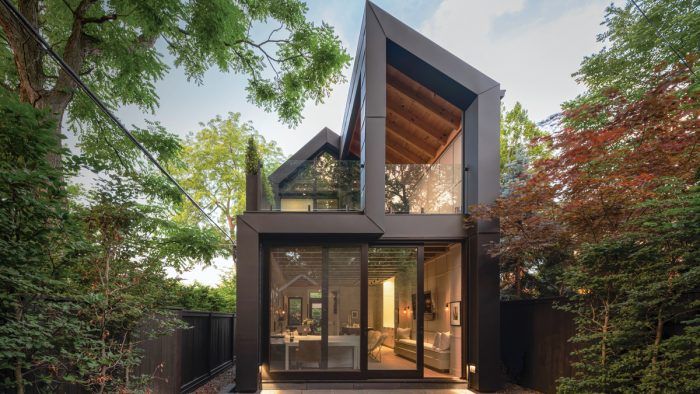 Steven Fong Architect reinvented a 140-year-old, 1205-sq.-ft., two-story home into the "House of Four Gables," with a contemporary design that maximizes the floor space within the lot's tight borders. It's a secluded place set apart from, yet in the midst of, the city. The exterior walls and roof are clad in Rheinzink- Granum architectural-grade zinc with a basalt finish. The metal tiles are set in a horizontally oriented, staggered pattern resembling the prior brickwork base and wood siding. The finish provides an immediate dark-gray matte appearance that complements the stained heavy-timber white pine, sapele mahogany frames, local limestone, and clear and frosted glass. With a potential lifespan of up to 100 years, the finished zinc will patinate naturally over time to a blue-gray tone. It is self-healing, low-maintenance, noncombustible, corrosion-resistant, and 100% recyclable. Inside, the domestic program is configured as open loft-like spaces. The interior brings together elements of heavy-timber construction juxtaposed with refined cabinetry and wall paneling. Exposed white pine structural timbers are prominent throughout the house, with 3×12 joists on the ground floor and dramatic 4×8 rafters with collar ties on the bedroom level. Both ceilings are infilled with tongue-and-groove boards.
Architect  Steven Fong Architect  fongarchitect.com
Builder Den Bosch + Finchley
Location  Southern Ontario, Canada
Photography  Scott Norsworthy 
From Fine Homebuilding #304
---
RELATED LINKS