Air-Leak Tracer
The Fog Puffer is a smoke pencil that helps find air leaks during blower-door tests.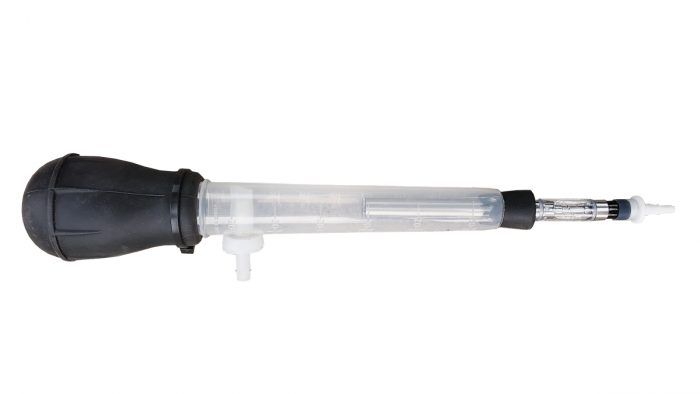 There are several methods used to find air leaks during a blower-door test. Thermal imaging with an infrared camera is my go-to, but if the difference between indoor and outdoor air temperatures isn't large enough, thermal imaging won't work. 
Another option is to use smoke to see air movement. I was introduced to the Fog Puffer by The Energy Conservatory (TEC) several months ago. The brainchild of one of TEC's founders, Gary Nelson, the Fog Puffer is a cross between an e-cigarette and a turkey baster. It has three components: a rechargeable battery, a reservoir for the smoke fluid, and a baster with a check valve. The smoke fluid is a nontoxic propylene glycol.
When you squeeze the baster's bulb, a thin line of smoke appears. This smoke will hang in the air or move straight up if there are no air currents to scatter it, which is the ideal result. Once the smoke finds an air leak in the assembly, it becomes turbulent and will typically move away from the leak during a negative-pressure blower-door test, or toward it during a positive-pressure test. 
It's important to keep the components separated during storage, especially the battery and the glycol. I use a weathertight compartmentalized container to store the battery separate from the glycol reservoir. I also keep the bottles of glycol in Ziplock bags, separate from the rest of the tool. Though the glycol is nontoxic, its moisture can wreck the battery if the two are stored together.
Overall, this is one of the handier tools I own. I even bought a second one so my customers can help find air leaks in their homes during testing. This helps them engage with the process and learn the importance of air-sealing. The Fog Puffer is available on TEC's website for $60.
– Randy Williams, home energy auditor and contractor in Grand Rapids, Minn.
From Fine Homebuilding #304
---
RELATED LINKS