Better Sound Absorption With Slat Wood Wall Panels
With felt backing made from recycled material, these wall panels from The Wood Veneer Hub combine aesethetics with practicality.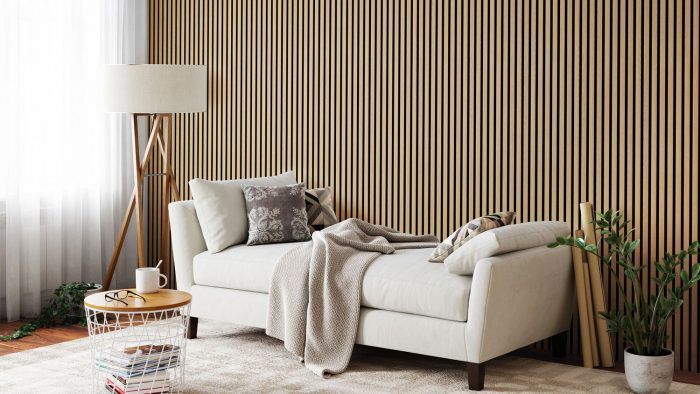 If you're looking for privacy and serenity, conventional sound-absorption methods can include costly and invasive amendments to walls, or quick but often ineffective options like rugs and window treatments. One in-between option that offers a nod to the retro is slat wall and ceiling panels. While not a new concept, achieving the right combination of acoustics and aesthetics can be tricky, but is made less so by The Wood Veneer Hub's Natural Walnut Acoustic Slat Wood Wall Panels.
The slat wood panels achieve their sound reduction by the polyester felt backing made from recycled materials. The panels can be secured with construction glue or grab adhesive, or by screwing them directly into the wall. But for maximum sound absorption, you can attach the panels to the wall via wood batons. The product ships in boxes containing two 94.48-in. by 12.6-in. wall panels each weighing about 30 lb. They arrive unfinished, so you can achieve your desired aesthetic using whatever finish you'd like. If adjusting the size of the panels is necessary, The Wood Veneer Hub recommends using a saw to cut across the width, but a craft knife should be just fine for cutting lengthwise.
Pricing for a box of two 94.48-in. by 12.6-in. panels is $250.
Photos courtesy of The Wood Veneer Hub