Design
A Custom Closet Remodel
A bedroom wardrobe remodel offers multipurpose storage with built-in shelves, pullout drawers, and poles of various lengths and heights.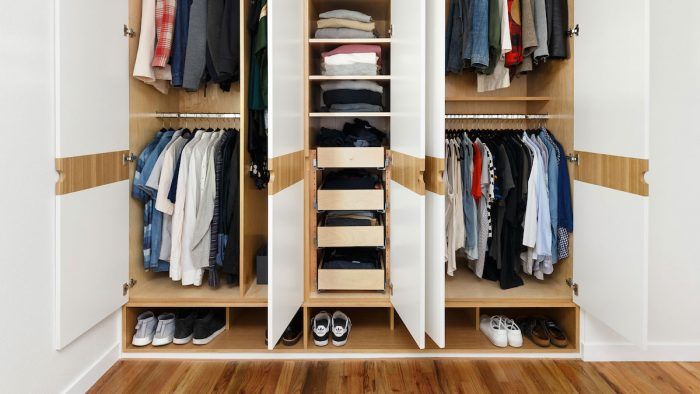 When clients of the interior design firm Dyer Studio first approached principal Stephanie Dyer to remodel the bathroom in their modest midcentury ranch, they also asked about replacing the closet in the primary bedroom, which offered little more than the basic pole-and-shelf setup typical of 1960s-era homes like theirs. They wanted a new wardrobe that would be as inspiring and functional as the transformed bathroom.
Not only did Dyer Studio and Durham Construction, both of Portland, Ore., improve the existing closet layout to create more storage space, they aesthetically tied the closet in with the cleverly redesigned bathroom so that the clean, modern look would carry through the house and become the basis of more remodeling to come.
Demolition of the existing closet involved getting rid of the header, bypass doors, and wing walls on each side. This allowed the interior designer and the contractor to take full advantage of all available vertical and horizontal space—7 ft. from floor to ceiling and 7 ft. 9 in. side to side.
Functionally, the existing closet was essentially limited to hanging storage only, not counting the floor for shoes and one long, narrow shelf for lesser-used items. The new closet, with built-in casework and custom cabinetry, offers the kind of multipurpose storage typical in new homes—multiple poles and shelves of varying lengths and heights to accommodate different types of garments. The new closet is divided into three areas, with upper and lower poles for hanging on the left and the right sides. In between, the narrow vertical space accommodates four pullout drawers with five adjustable-height shelves above. At floor level, there is space to neatly line up shoes. All these custom built-in features were designed and dimensioned to fit the closet interior precisely, which allows the maximum amount of storage.
Creating a common design language between the white oak bathroom vanity and bedroom closet, white oak was used for an accent strip on the exterior of the painted white closet doors. In addition, two-inch cut-out finger-pulls in the closet doors replicate the same circular design feature found in the cabinetry of the bathroom vanity.
The choice to go with built-in case work and custom cabinetry for the bedroom closet endows it with a level of visual finish as sophisticated as the new modern bathroom.
See the full bathroom remodel in "Designing a Bathroom Remodel on the Diagonal."
Photos by Meagan Larsen.
---