Design
A Suite Bathroom Carved Out of Closet Space
Reorganizing an awkward floor plan shows how function and comfort can be achieved in small spaces.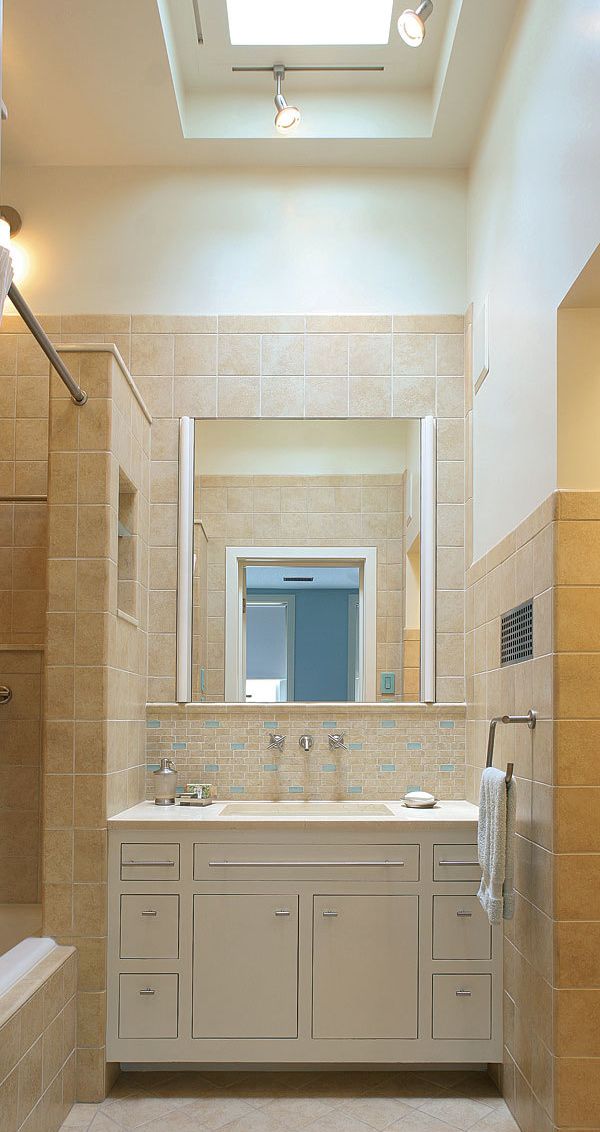 Synopsis: By moving a few nonbearing walls and relocating two bedroom closets, John Boatman was able to add a suite bathroom to the second floor of his Washington D.C. town house. He created a spa-like feel in a small area by raising the ceiling height, installing a skylight, and maximizing fixture spaces. In order to have a clean, uninterrupted backsplash, he installed GFCI outlets and light switches in a false vanity drawer.
Over the past few years, John Boatman has been hard at work teasing out the charm in his 1911 Washington D.C. town house. Foremost on his priority punch list was to remedy a dysfunctional second-floor layout and to add a suite bathroom where no bath had existed.
Looking at the floor plan, John took stock of his storage needs and the potential that lay in the existing closet spaces. By moving a few nonbearing walls and relocating two bedroom closets, he not only created enough space for a cozy, spalike suite bathroom but also made the second floor a much more functional, pleasing place to be.
"Aha!" moment
It took more head-scratching to figure out how the existing floor plan was intended to work than it did to envision a newly designed space. A pass-through between the primary bedroom and the middle bedroom was awkward and redundant given the main hallway, and it could easily be jettisoned from the new layout. Similarly, John realized he didn't need the existing primary-bedroom closet because he could move storage to custom built-in closets along the north wall of the bedroom. The bath walls were thickened to accommodate utilities and storage niches.
For more photos, drawings, and details, click the View PDF button below:
View PDF