Fix for Crooked Work Boxes
This is the easiest way to bring a receptacle flush with the drywall. Discover how to fix crooked work boxes, here.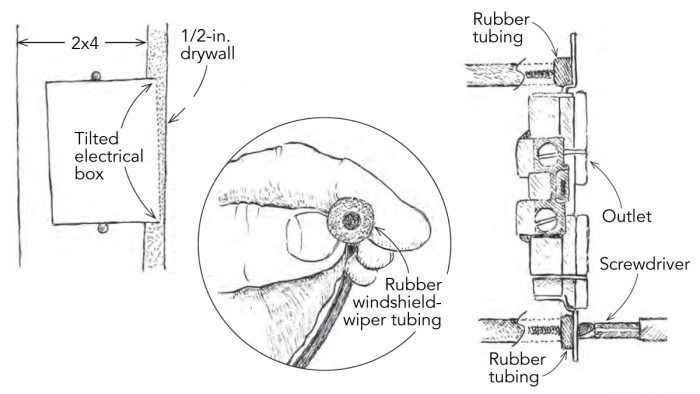 The only way to make sure that a receptacle remains solid for years is to screw it tightly to the face of the electrical work box. But that doesn't work if the box is crooked or is not flush with the surface of the wall. Some electricians support receptacles by resting the ears on the wall surface, leaving a gap between the receptacle and the box. Sooner or later, though, those outlets will break off the drywall and become loose.
Here's the easiest way I've found to bring a receptacle flush with the drywall. Buy a length of windshield-wiper rubber tubing at your local auto-parts store. It works perfectly for this job. Determine how much you want to shim out on each side of the receptacle, and then snip off a piece of tubing about 1/16 in. longer than the space you want to fill. This tubing has a 5/16-in. outer diameter, and the hole is a little less than 1/8 in. Just slide the rubber pieces onto the screws and secure the receptacle to the box. A bonus is that the tubing fits snugly over the receptacle screws and holds them straight out, making it easier to line up the screws to the holes in the box. I always keep a roll of this tubing in my electrical toolbox.
—Grant Litts, Norway, Mich.
Edited and Illustrated by Charles Miller
Published in Fine Homebuilding #306