Stay Cool With a Prefab Plunge Pool
Made of cast concrete with hand-tiled interiors, Soake Pools are excellent for creating a custom backyard oasis.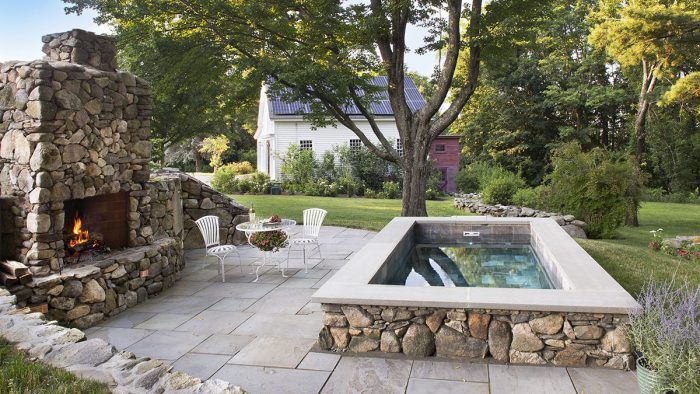 If you're longing for a personal space to cool off on a hot day and to relax with family and friends but don't want the hassle and expense of a full-size swimming pool, a plunge pool may be exactly what you need. While researching all of the possible options for installing one in my own backyard, I discovered that one of the most luxurious, easy-to-install, and low-maintenance types you can find is a precast concrete pool with a fully tiled interior—which is exactly what New Hampshire–based Soake Pools specializes in. These pools are factory-built and hand-tiled, and they can be shipped anywhere in the world.
Soake Pools come in four sizes, ranging from a compact 7-ft. by 7-ft., 52-in.-deep square up to a spacious 13-ft. by 7-ft., 59-in.-deep rectangle. A simple built-in bench and a step comes in every pool, while multiple steps or a wraparound hot tub–style bench are optional upgrades. For the interior surfaces, choose tiles from the standard collection for a classy but understated look, or opt for a custom-designed mosaic at an additional cost.
An included foam insulation kit helps moderate the water temperature in each pool, but you will have to add a heater to use yours like a hot tub or to keep it running year-round in cold locations. Once in the ground—or aboveground if you prefer—you can clad the pool in any suitable landscape material so that it fits your yard and your personal style.
Prices start at $33,500, and that includes a pump, filter, saltwater chlorinator, water heater, and built-in lighting—which all can be controlled from a smartphone app or PC. Site work, electrical connections, exterior cladding, and landscaping are up to you or your contractor to provide, and Soake Pools can even recommend experienced contractors and landscape designers in many parts of the country.
Photos courtesy of the manufacturer.
---
RELATED STORIES