Code-Compliant Swimming Pool Barrier
Swimming pool owners are responsible for ensuring a code-compliant barrier exists to prevent children from the potential fatality of entering unsupervised.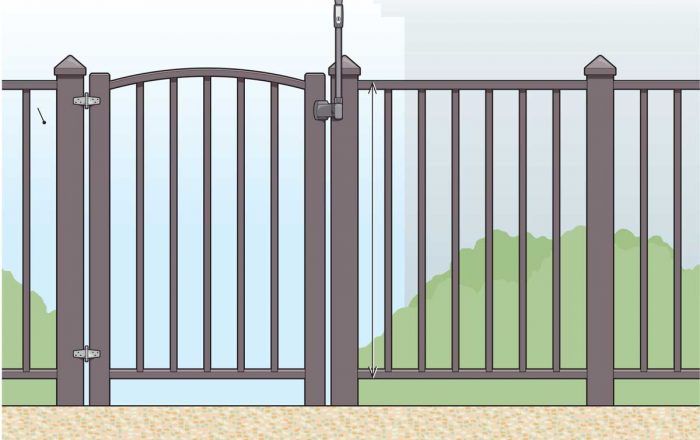 Synopsis: Although there aren't codes specifically for fences in the International Residential Code, there are rules cited for swimming pool barriers to prevent small children from entering unsupervised. Code expert Glenn Matthewson gives a rundown of what's required of a pool barrier, including requirements for height, clearances, gate locks, and more.
---
There are no "building codes" for fences in the International Residential Code (IRC), but they are mentioned twice: once to exempt fences up to 7 ft. tall from needing a permit, and once in a section about glazing and wet surfaces. However, many cities have planning and zoning regulations that put limits on fences that result in a permit being required regardless. In my years as a municipal building inspector, we were assigned the fence inspections to verify the zoning code. Usually these inspections were boring, as you casually verified the approximate location and design of the fence against the approved documents. But I remember one inspection of a new 6-ft. steel fence that replaced an old cedar one. Unfortunately, neither the owner nor the contractor knew that the cedar fence was also the required code-compliant barrier for the property's swimming pool. The new metal fence did not comply.  
Swimming pools are attractive to small children, and pool owners are responsible for preventing children from trespassing into them. A barrier doesn't just get in your way like a guard at the edge of a deck; it must prevent the intentional and clever breach by a child less than five years old. Section R327.1 of the 2021 IRC references the International Swimming Pool and Spa Code (ISPSC) for the design and construction of pools and spas, which covers both permanent in-ground and portable above-ground pools and spas. Even when the ISPSC is not directly adopted by a jurisdiction, the reference to it in section R327.1 means its provisions must be followed even if you're building to the IRC. Section 305 of the ISPSC provides almost three pages of provisions for barriers, which can be read for free at codes.iccsafe.org. Here's a general rundown of what you will find, but keep in mind that some building authorities amend these provisions when specifically adopted.
When is a barrier required?
As mentioned, barriers are meant to keep children out, but they aren't required when spas or hot tubs are equipped with lockable safety covers complying with ASTM F1346, or for pools equipped with powered safety covers complying with ASTM F1346. If those safety features aren't included, then a barrier is needed.
It's important to note that protection is also mandatory when in-ground pools, spas, and hot tubs are under construction, not just when they're finished and filled. Fencing at least 4 ft. tall is required to surround the building site from the time the excavation starts until the permanent barrier is completed.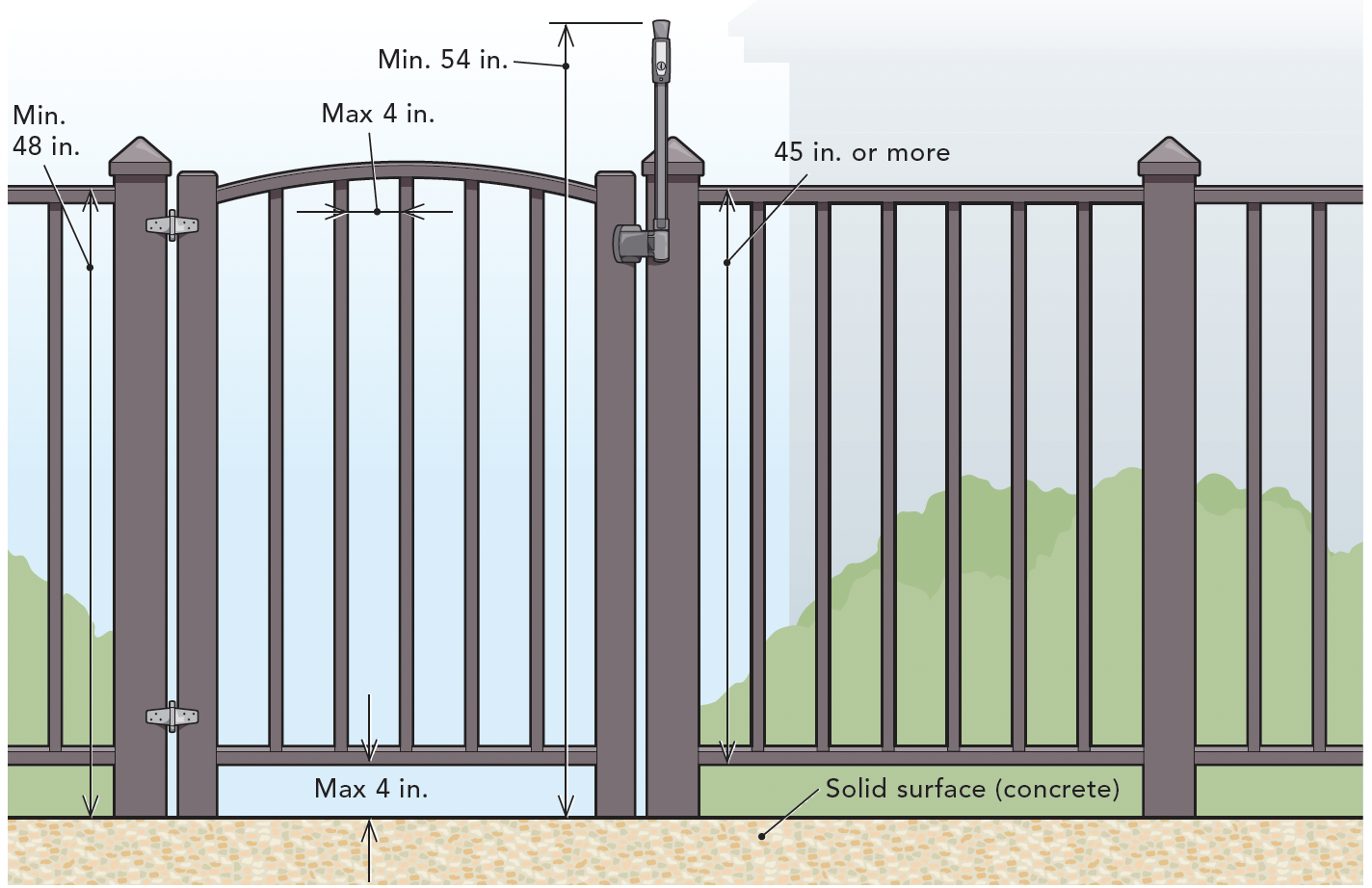 Height and clearances
Barriers are meant to keep people out, so their dimensions are measured on the outward-facing side, not the side facing the pool, spa, or hot tub. The barrier must be no less than 48 in. high measured from grade, and it's not just the grade immediately in front of the barrier that matters. That 48 in. must be maintained at least 3 ft. out from the face of the barrier around its entire perimeter. The worry here is a rising slope, pool pump, wall, or other feature near the fence that could be used to boost a child over the barrier. If something in that 3-ft. track around the barrier's exterior perimeter sticks up, the barrier must rise at least 48 in. above it. 
The bottom of the barrier must also prevent a child from slipping under it. It has to be within 4 in. of a solid surface below, like concrete, and within 2 in. if the barrier is above grass or gravel that can be scraped or dug out. For above-grade pools and spas, the barrier can be installed either on grade following the rules already mentioned, or on top of the pool or spa structure. If on the structure, the bottom of the barrier must again be no more than 4 in. above the structure's surface. 
Any openings in the barrier cannot allow the passage of a 4-in. sphere. This is identical to guards, but that is the only correlation between the two. If the barrier is solid, like a stone wall, there can be no indentations or protrusions that create handholds or footholds. Imagine a rock-climbing wall and an agile child.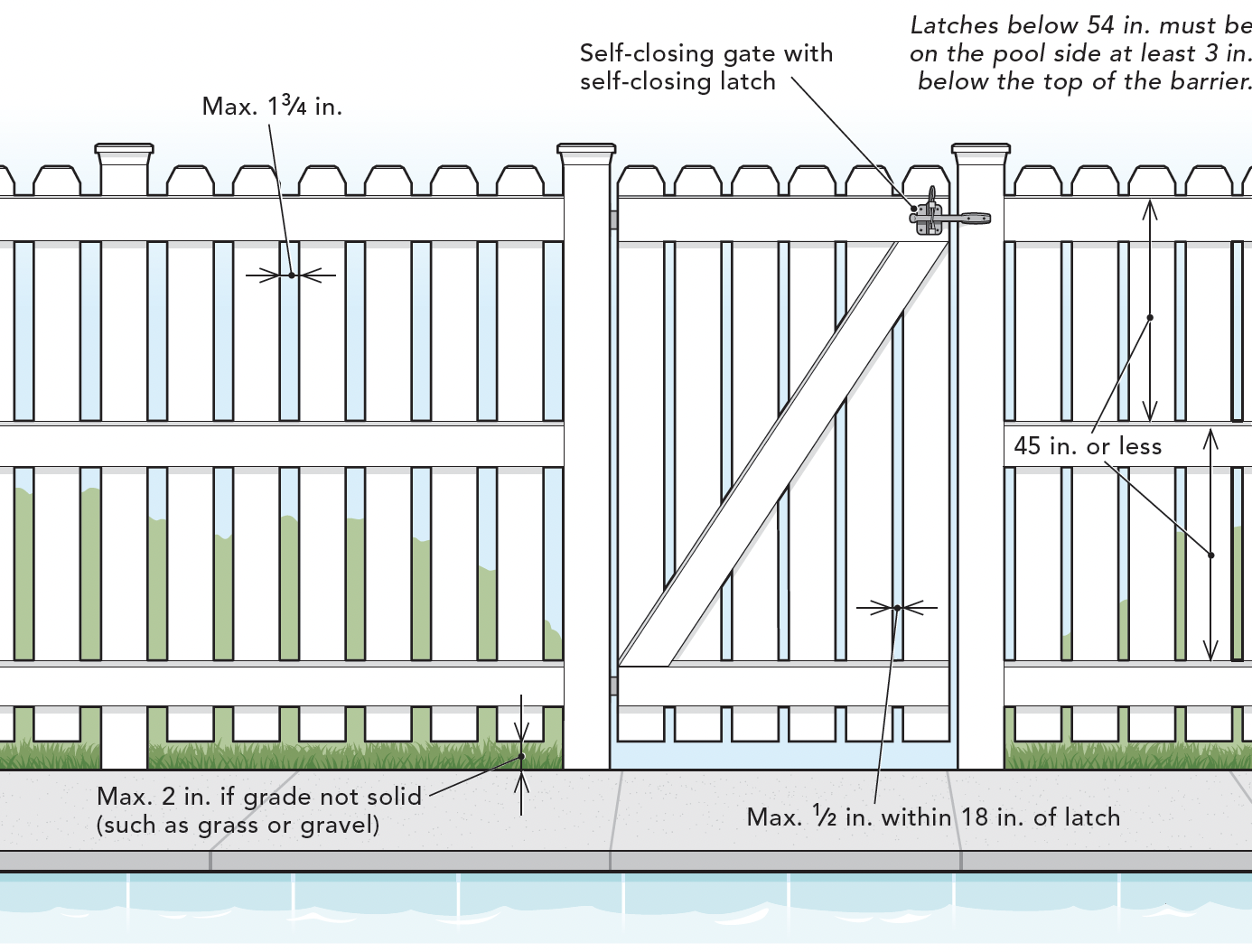 Fences as barriers
It's convenient when a standard fence can also function as a security barrier, but different conventional fence designs have different specific rules, all derived from the climbing ability of children. In a typical cedar privacy fence, horizontal members spaced less than 45 in. apart vertically create convenient rungs for climbing. Those members must be on the pool side of the fence, and the openings between the vertical fence members cannot be greater than 1-3⁄4 in. to prevent a child from being able to get a toehold on the horizontal members behind. This maximum also applies to any decorative cutouts in the fence. When the distance between the horizontal members is more than 45 in., the climbing gets harder, so the horizontal members are allowed to be on either side of the barrier, and the opening limitations increase back to the standard 4-in. sphere. This is where the new steel fence in my inspection story didn't comply. The vertical members were 5 in. apart, whereas the old cedar fence was solid.
Other barriers
Chain-link fences and fences designed with diagonal members, like lattice, cannot have openings greater than 1-3⁄4 in.—again, to avoid providing a foothold. Mesh fences can also be used, and there's a list of seven unique requirements that all derive from an ASTM standard specific to this style of barrier, F2286. Due to their flexibility, they must be installed within 1 in. of the deck, installed surface, or grade, and must not be able to be lifted more than 4 in. Like all barriers they must be 48 in. high, but their attachment method at the top must be no lower than 45 in. There are additional provisions regarding attachment method, a 20-in. minimum horizontal distance from the edge of the pool, and a few others specific to these barrier styles. Two other sections address natural conditions that can sufficiently block young children from the pool. When the pool abuts the edge of a lake or other natural body of water that does not have public shore access, the barrier must extend at least 18 in. past the water's edge. With this in place, no barrier is required between the pool and body of water. Natural topography such as rocks and cliffs can also be used as a barrier as long as they provide impassability equivalent to other barriers.
Gates and doors
Pedestrian access gates in barriers accessing private residential pools and spas must be self-closing and self-latching, and must open outward, away from the pool. When the latch mechanism is on the non-pool side, it must be at least 54 in. above the surface below—above the top of the barrier. This may help you understand why it's common to see a minimum 48-in.-high fence with a latch that extends above it—a child can reach farther than they can climb. When the latch is on the pool side, it must be at least 3 in. below the top of the barrier. This makes it inaccessible to a child trying to reach over, but the barrier also cannot have openings greater than 1⁄2 in. within 18 in. of the release mechanism to prevent small hands from reaching through to the latch on the other side. It's common to see a wire mesh installed near the latch on steel-fence barriers.
Structures as barriers
The most surprising barrier to most people is the barrier required between the pool and their own house. Indeed, the ISPSC provisions also intend to protect small children from their own pool. Section 305.4 provides a list of six options where the walls of the building can act as the barrier, including the use of warning alarms on operable windows and doors. Due to the controversial nature of protecting the residents themselves, it's not uncommon for governments to delete the alarm requirements when adopting the code. Similar to the walls of buildings, the side walls of above-ground pools and spas can also be used as barriers where approved by the manufacturer to provide such protection. The pool walls must meet the minimum 48-in. height or have a barrier constructed on top that extends to the minimum height. These barrier extensions must also be approved by the manufacturer. Ladders for entry into above-ground pools must be capable of being secured, locked, or removed to prevent access. 
Though these barrier provisions are complicated, they serve a good purpose. As mentioned earlier, covers are another option that allow you to forgo a barrier, and they also have some important characteristics. The ASTM standard requires the cover to have a locking mechanism, warning labels, and, for small pools and spas, the ability to support the weight of one adult rescuing one child (275 lb). When larger than 8 ft. in any direction, the cover must support two adults and a child (485 lb).
Three pages of building codes can't be comprehensively explained in a short article, but now you have a basic understanding of what's expected. When faced with a pool-barrier application, reference the code and get the specifics right. The result of a bad pool-security barrier could be a lifeless child. Regardless of what your local building code requires, be vigilant in ensuring your pool or spa is at least as secure as the most recent model building code recommends, if not better. Young children can't take the personal responsibility for drowning, and you're the one with the pool. This is a time for you to know the code and take responsibility.
Glenn Mathewson is a consultant and educator with BuildingCodeCollege.com.
Drawings: Kate Francis
From Fine Homebuilding #310
---
RELATED STORIES