wood porch floors
The Tops and Bottoms need coating. Leave one side open and its a special invitation for moisture.
Discussion Forum
Recent Posts and Replies
Up Next
Featured Story
I Wish Tools Were More Expensive
Andy Engel reflects on the price and durability of tools over the years since he entered the trades in 1979.
Highlights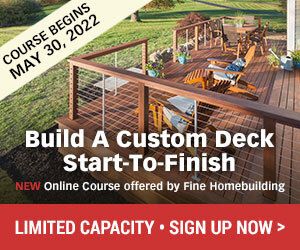 "I have learned so much thanks to the searchable articles on the FHB website. I can confidently say that I expect to be a life-long subscriber." - M.K.
Get home building tips, offers, and expert advice in your inbox