Passive Solar Design
Pointing to his Net Zero Escape project as an example, Texas-based architect Peter Pfeiffer shares his thoughts on climate-responsive design.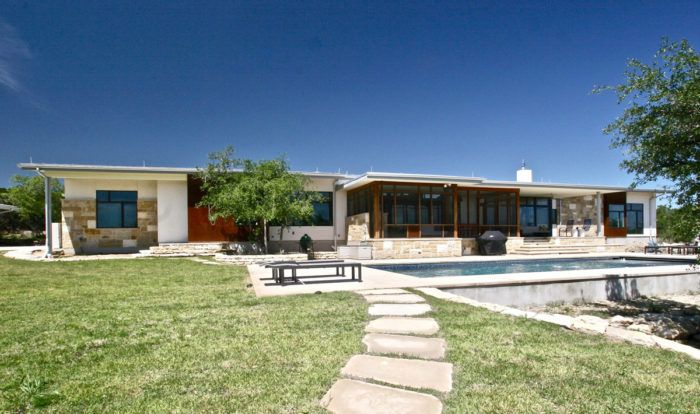 "It's not simply a matter of efficient air-conditioning systems, radiant barriers, and insulation. First and foremost it's about design." — Peter Pfeiffer, FAIA
Since the 1970s Peter Pfeiffer has employed passive solar strategies in his projects. The architect feels strongly that design is the first frontier when it comes to building houses equipped to handle extreme heat. In general, he supports designing for resilience by creating and protecting built environments that will withstand rising seas, more frequent and severe storms, and other effects of climate change. "We endorse smart initial project programming for designing to the highest standards of climatic appropriateness and building science, and then augmenting with mechanical equipment," he explains. The idea is to make homes naturally (or "passively") resilient in the face of extreme weather events that can compromise electrical systems.
Pfeiffer makes a simple analogy that gets at the crux of his climate-responsive approach: "A house is a shelter from the environment, therefore you can take cues from the environment based on what you would do to your body to be comfortable there. Wearing a heavy parka in a cold area like Maine makes sense but it's not what you would do in Texas. It's the sun we contend with—so insulation shouldn't be the focus when we are building houses here." In Texas, controlling solar radiation is the goal.
Located in Austin, Pfeiffer's Net Zero Escape project (pictured here) demonstrates how climate-responsive, site-specific design produces comfortable spaces on a year-round basis despite central Texas's hot and humid climate. Beyond that, in the case of a severe weather event, he believes the house will remain not only habitable but comfortable too.
A ventilated radiant barrier roof system—one that Pfeiffer invented and is now widely used in the building industry—is key to that comfortability. The system includes light-colored gavalume, a coating applied to sheet metal, the underside of which acts like a radiation barrier. The assembly floats roughly an inch above a sub roof and the gap between is ventilated so that very little of the absorbed heat is transmitted into the attic or house. "It is like the house is under the shade of a large oak tree or car port," explains Pfeiffer, adding that he also uses thermal siphons in the form of high clerestory windows and glass walls that open to create cross ventilation. "You could survive in this home without electricity, and that is a big deal here," he says, recalling Hurricane Harvey's aftermath when elderly people died because of the heat trapped in their nursing home.
Of course, how the home is oriented on the site is crucial. Pfeiffer asks clients not to get too hung up on the views. He makes comfortability the focus, laying out rooms so that those that need daylighting are facing north and south, where the majority of windows will be. He explains that it is much harder to control solar radiation on east- and west-facing windows because the sun is too low in the sky—it gets under the overhangs and awnings, which he uses to protect interiors from direct sunlight. The bright rooms in the Net Zero Escape house are the result of reflected light. "We are modulating the daylight," notes Pfeiffer.
In Austin, where there are high levels of humidity, mold, and pollen, Pfeiffer is not as concerned with bringing outside air in. To do so, he says, can add to air quality problems rather than diminish them. Instead he promotes the use of well-ducted exhaust fans to remove VOCs and other pollutants. Given the toxins typically emitted from a garage, detaching it from the house is another smart move.
"These types of basic design steps will provide a solid foundation for the effective addition of green building options such as solar panels, tankless water heaters, and other popular technologies," he says. In other words, don't rely on an ERV system and solar shades, design the house not to overheat in the first place.
Previous:
A Trombe Wall Solution for Passive-Solar Storage
Next:
Affordable Net-Zero Housing: Designed for the Budget