How to Find Air Leaks in Your House
A blower door isn't just for measuring how tight a building is—you can also use it to search for gaps and holes that need air-sealing.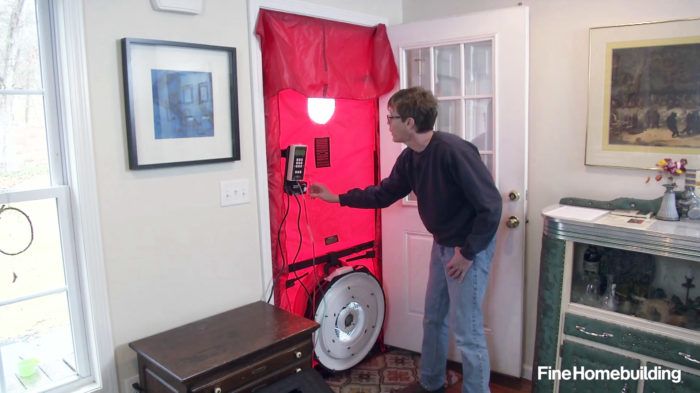 As air tightness becomes a more common goal in both new construction and retrofits, more builders are relying on blower doors to measure how successful they've been at tightening up the building enclosure.
A blower door is a calibrated fan that is set up in an exterior doorway. After the air barrier is complete—including roof and wall sheathing and doors and windows—a technician sets up the blower door and depressurizes the house until the difference in air pressure between the outdoors and the interior of the house is 50 pascals. The amount of air required to maintain that pressure difference is an indication of  how leaky the house is.
This spot measurement, described as air changes per hour at 50 pascals (ACH50) or cubic feet per minute (cfm) at 50 pascals, shows the builder whether the house meets basic code requirements or something more rigorous, like the Passive House standard.
But the value of a blower door doesn't stop with a simple measurement of air tightness. Obvious leaks in an older home, such as a plumbing chase that runs all the way from the basement to the attic or a yawning gap around a chimney where it exits the attic, are easy to spot. A blower door can help builders or homeowners spot more subtle leaks and plug them up, making the house more comfortable, less likely to develop moisture problems, and cheaper to heat and cool. Instead of running only as long as it takes to get a spot measurement, the fan stays on while leaks are hunted down.
Using a blower door to find air leaks is called blower-door-directed air sealing, a technique developed in the 1980s by crews working in the Weatherization Assistance Program, a federal agency.
Where air leaks are most common
Among the usual culprits are seams and joints in the building enclosure. If the house is sheathed in plywood or OSB, for example, air leaks are not going to be in the middle of a panel but at the edge of a panel where it meets the framing.
Other places where leaks are often found:
In window and door openings. Frames may not be sealed into the rough opening with foam or flashing tape. When old windows with sash weights are replaced with modern windows, contractors sometimes don't bother to fill the cavities behind the jamb with insulation.
Around electrical boxes.
Where plumbing and electrical lines pass through exterior walls and the ceiling below the attic (when the attic is a vented, unconditioned space).
Under the bottom plates of exterior walls, and between the double top plates on exterior walls.
Where the rim joist meets the foundation and mud sill.
Around an attic hatch (assuming the attic is unconditioned and not air-sealed).
At recessed lights in a ceiling between an unconditioned attic and the room below it, or when installed in a cathedral ceiling.
The seam between the baseboard and the finish flooring.
Much more detailed information on where air leaks may be found is available in the Thermal Bypass Checklist published by the U.S. Environmental Protection Agency's Energy Star program.
Tools for "seeing" air leaks
Even if you know where to look, you still need a way of detecting air leaks. Building scientists would come armed with a variety of sophisticated measuring equipment to detect pressure differences indicating air leaks. But a seasoned weatherization worker can use the back of his or her hand to sense air movement (surprisingly effective in winter when outdoor air temperatures are low). So can you.
A smoke pencil or a stick of incense held near a suspect areas will make it obvious when there's a leak. With the right materials on hand, a leak can be blocked off quickly.
Blower doors typically expel air from inside the house, lowering the pressure relative to the outdoors, so a leak allowing outside air into the house can be picked up with one or more of these techniques. But the blower door also can be run in the other direction to raise air pressure inside the house relative to the outdoors. In this case, energy consultants might operate a theatrical fog machine inside the house and look for leaks outdoors.
Martin Holladay, in an article at Green Building Advisor about this technique, calls the use of a fog machine "leak detection for dummies." All you have to do is stand in the yard and look for smoky air puffing or billowing out of leaks in the building enclosure. You've found your leaks.
Holladay spoke with Massachusetts energy consultant Marc Rosenbaum about using this technique and learned that builders who might normally shrug their shoulders when presented with numerical evidence of air leaks (so many cfm at 50 pascals) totally get it when a fog machine is put to use. "When you use a fog machine," he said, "and you have fog blowing out of a hole in the building, I've never had anyone point to it and say, 'Why isn't that good enough?' "
Paul Eldrenkamp, a Massachusetts builder specializing in high-performance renovations, suggests that the fog machine can be carried around outside with the blower door depressurizing the house. The fog will be carried inside via leaks.
Infrared (IR) cameras also are useful for showing where there are thermal leaks in the building, which could be caused by air leaks. Images taken with an IR camera show a temperature gradient, with blue/purple indicating cooler temperatures and orange/red showing warmer temperatures (as shown in the photo below). An image may indicate thermal bridging through an exterior wall (not an air leak) or it can help identify a spot where there is a leak that can be blocked.
Professional grade IR cameras aren't cheap, but prices have fallen and the cameras are available for rent from the Home Depot (and possibly other retailers) for a reasonable cost. It takes some expertise and practice to interpret an IR image correctly, but an IR camera can be an extremely useful tool that saves a good deal of time in tracking down sneaky leaks.
---
Scott Gibson is a contributing writer at Fine Homebuilding magazine and Green Building Advisor.
Next:
Straightforward Air-Sealing Strategies