How-To
Warm Floors and Energy Efficiency
In-floor radiant heat—especially in bathrooms—is a popular home improvement, but is it wasteful?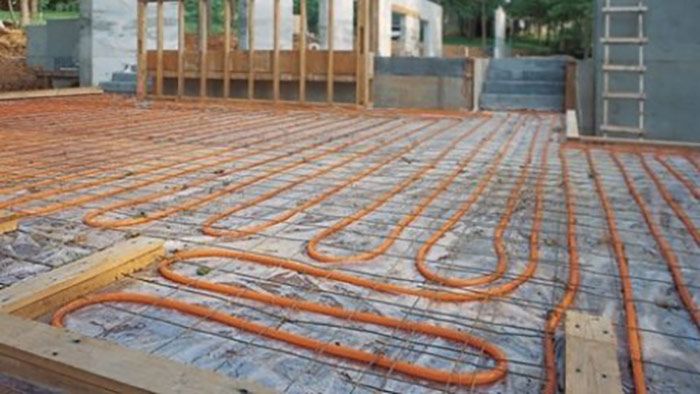 Ceramic tile is a desirable choice for bathroom floors because it is durable. Among its cons is the fact that many people find tile cold. For this reason, radiant heating under bathroom floors has become a popular upgrade. Here's a look at the best options for warm bathroom floors and how much energy this comfort requires.
In general, radiant-floor heating offers some advantages. Overall, it is more efficient than baseboard heating, and it can be more efficient than forced-air heating in smaller areas with conventional ceiling heights. Hydronic, or water-based, radiant floor systems use the least energy and can be combined with solar panels and heat pumps for maximum energy efficiency. People with allergies sometimes prefer radiant heat because it doesn't distribute allergens like forced-air systems do. However, hydronic systems are expensive to install.
All radiant-heating systems have one characteristic in common. Namely, to warm a room, they must remain on continuously. Radiant floors for underfoot spot-warming in areas like bathrooms generally function as a supplemental heat source and have an advantage. These heated floors serve their purpose sporadically and are designed to warm up quickly without consuming too much energy.
ThermoSoft specializes in in-floor heating and offers both mat and loose-cable systems. They are categorized by flooring types that include tile, stone, wood, laminate, vinyl, carpet, and concrete. You may have seen their electric ThermoTile mats, which glue onto the subfloor with thin-set, and then ceramic tile lays directly over the top. The system consists of a thermostat with a floor sensor, so you control the heat where you need it—underfoot. Since you only need the heat while you're in the room, and it takes a bit to warm the floor, the most efficient installation comes with one of the company's advanced, programmable thermostats. This way, you can start heating the floor a few minutes before taking a shower. The premium thermostats run between $250 and $275 with remote start and a WiFi connection that talks to Alexa, Apple HomeKit, and Google Assistant.
Warmup's electric radiant floor heating systems are touted for their ability to heat up in minutes rather than hours, which avoids overheating and wasted energy. The company's DCM-PRO System combines a heating cable, anti-fracture Membrane, and Smart Thermostat for about $10 per sq. ft. The company also claims their DCM-PRO Membrane will prevent floor tiles from cracking over wood subflooring.
QuietWarmth from MP Global Products sells a peel-and-stick mat to lay under glue-down floors, such as engineered wood. A 120-volt system, their low-cost, easy-to-install mat, costs $8.50 per sq. ft. (plus labor and a thermostat). The company also sells a system for click-together floors or floating floors like Snapstone, Avaire, and Eclipse, which do not require glue or embedding in mortar. These floors do not achieve operating temperature quickly, so a programable thermostat is needed to pre-heat the area before use. Nonetheless, the company says their system warms efficiently, saying that a 60-sq.-ft. area costs just $0.086 to reach the desired temperature and half that for every hour afterward (costs based on an electricity rate of $0.12 per kilowatt-hour).
It becomes impossible to compare the energy efficiency of electric-resistance heat since all these systems work at 100% efficiency. In other words, all the incoming electric energy becomes heat. The cost difference in running the system comes with demand wattage (more powerful systems use more energy) and the local utility price. Electricity generation and transmission are often more expensive than combustion fuels, even when a conventional system may convert about 30% of the consumed energy to heat. Whether the electricity spent is green or brown depends on what feeds the local grid—coal, natural gas, hydroelectric, or renewable sources. Codes keep moving toward electric heat, and it's likely all our homes will use it exclusively in time.
---
Originally published on GreenBuildingAdvisor.com. Fernando Pagés Ruiz is a builder and an ICC-certified residential building inspector active in code development.
Previous:
10 Dos and Don'ts for Electric In-Floor Heat
Next:
Floor Thermostats Now Compatible with Voice Control