Why I Build: Jane DeWitt, Stonemason
The contrast of a hard day's effort and an evening's rest inspires this mason to make beautiful things that last.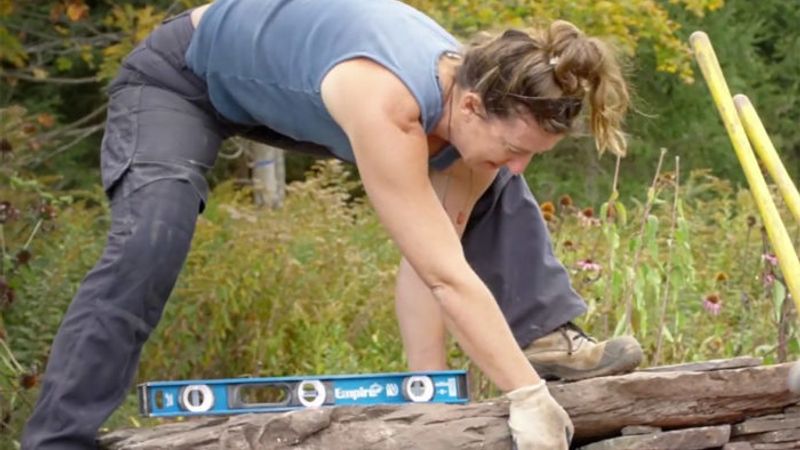 Jane DeWitt isn't your average stonemason. Ask her what she enjoys about her work, and she'll tell you it's the tension it creates between her body and her mind. She'll tell you it's the contrast of a hard day's effort and an evening's rest. That it's working outside amidst the unfolding of the seasons. That it's the spring thaw that marks the beginning of each year's work, and the first snow that marks the hard end.
Jane was raised on a dairy farm in the Western Catskills of New York, growing up like many farm kids do. She worked. She played outside. She studied hard. She went on to earn a degree at Dartmouth College in New Hampshire with the idea of becoming a journalist, a path that held the promise of office life, full of cubicles and computers. Despite a love of writing—which she still has to this day—the thought of such a prospect brought on waves of angst. So, she turned back to the farm, a place she now describes as being as much of a parent and teacher as her own mother and father. It's where she first picked stone from the fields in the spring after the frost had heaved and the soil had been plowed. It's where, at 14 years old, she, along with her mother, built her first traditional dry-laid stone wall to keep the cows out of the barnyard. It's where she began building stone projects–walls, pathways, and patios—for the neighbors, and where she eventually fell into her craft. She never had a business plan, business cards, a website, or a social media page.
When we caught up with Jane in the fall, she was at the tail end of her building season. She only had a few projects to complete—a small retaining wall for a repeat customer and a short walkway in a nearby hamlet—before heading south for several months. Far south. Through her work, Jane has established a yearly rhythm, working hard throughout the spring, summer, and fall to spend her off months traveling—most recently in South America.
But, like many who make their living in the trades, it's not the obvious rewards for her work that drive her desire to build. It's the process and the people. At the end of the day, it's the synchronization of the two that motivates her, and allows her to make beautiful things that last.
If you want to learn more about masonry projects, here are a few great features:
Fine Homebuilding has long supported those who share a commitment for quality building and craftsmanship. Continuing in that tradition, our Why I Build series tells the stories of men and women who have sought out careers in the building trades. Plus, you can find more stories about building-industry pros at keepcraftalive.org.
Previous:
Flame Edging Stone-Wall Capstones
Next:
Building a Fire Pit: Design and Planning