Pour Even Concrete Slabs
Create a key with strips of rigid foam to keep intersecting slabs from moving independently.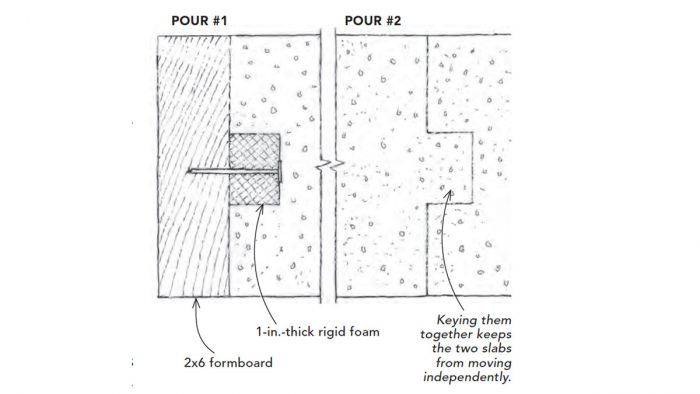 Here's a tip to help maintain an even top surface when you have to pour intersecting slabs. When prepping for the first slab, rip strips of rigid foam board and nail them to the inside of the wood formboards on the side that will border the next slab. This leaves a nice, clean key groove in the new slab, so that when you pour the next slab beside it, the two are locked in and you won't have one moving up or down in relation to the other.
Locate the foam strip so it runs across the center of the formboard. This will make sure that the groove in the new slab will be centered in the thickness of the slab for maximum strength. I've found that 1-in.-thick strips of foam cut about 11 ⁄ 4 in. wide work great with 2×6 formboards. Spray the strips of foam and the formboard with release oil before you pour.
—Grant Litts, Norway, Mich
Edited and Illustrated by Charles Miller.
From Fine Homebuilding #311
Previous:
Insulating a Slab-On-Grade Foundation
Next:
Placing and Finishing a Heated Concrete Floor