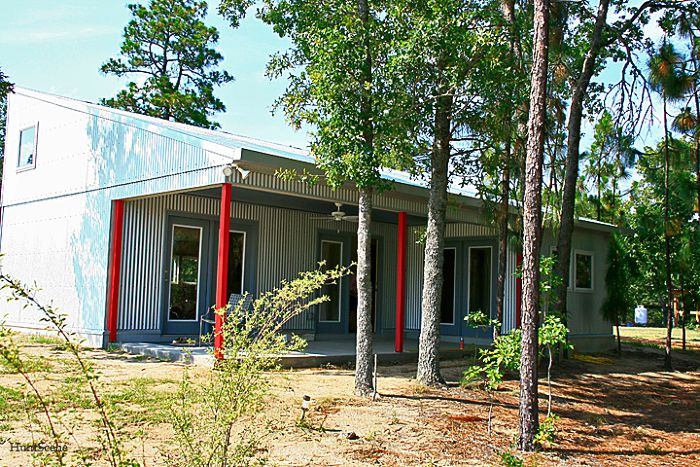 Joanie Schisler wanted to build a sustainable, ecologically sound house on a budget. Every phase of construction Joanie, her architect and her contractor had to think through. "I wanted no petroleum products used," said Joanie, "no fill dirt for the pad with trucks ruining the road, no trees cut and no big debris bin."
Every item was measured and re-measured to be sure there was no waste. Salvaged wood was used throughout, the spray closed cell foam insulation goes two feet underground along the concrete slab and overlaps the the wall insulation, a system of air exchange instead of duct work was installed and the exterior is Galvalume corrugated metal which reflect the intense southern heat. The exterior ski and roof are set off a bit from the siding to allow air flow for additonal cooling; even the interior paint was salvaged from a Naval Base. Even on 100 degree summer afternoons, the interior temperature stays in the mid-70s, with NO air conditioning on.
There was a garbage can of sawdust left at the end of the project. The final design is a 1,090 square foot house that combines the wedge form of Finnish architect Alvar Aalto, 1960s California modern with a whimsical touch of post-modern pillars. "This is a craftsmanship shed which fits nicely in a rural environment," stated the architect. All agreed it was a challenging experience but the whole project was fun. And both the architect and the contractor have skills and experience to continue to build ecologically sound houses.