Sustainable Living Shed in a Midwest Suburb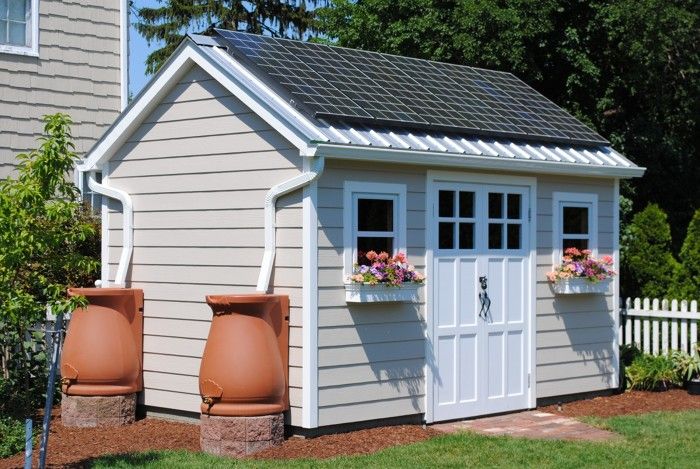 This shed was built with the intention of serving as many purposes as possible on as small a piece of land as possible.  Because we live on a corner lot where it would be very visible, we also wanted to make it aesthetically pleasing for our neighbors.  It serves the function of storage with the main storage area along with two loft areas, but also provides electricity to our home and fresh rain water for our vegetable garden.  The shed was built for longevity, using Hardiplank siding, metal roofing, a cement pad and an entry made from reclaimed hand-made clay bricks.  Following are some of the details.
Solar: Six Kyocera 135 watt panels are roof-mounted and actually supply power to our home.  I ran conduit underground from the shed to a battery bank in our basement – 12v @ 900 amp hours.  The panels produce enough power to maintain a charge on the batteries along with running a solar-powered freezer, our washer, a heat recovery ventilator, a charging station for all of our laptops, phones, kids' gadgets, my power tools and other misc. items.
Water: The metal roof was installed for longevity but also as part of a clean, rain-water collection system.  I've installed gutters on both the front and back of the shed which feed into two 65-gallon rain barrels.  These have been especially helpful with the exceptionally dry summer we've had so far this year.
The doors and window boxes were designed and crafted in my shop to match the architecture of our home and garage. We also were very careful in our choice of rain barrels so that the entire structure would blend well with our yard and home.