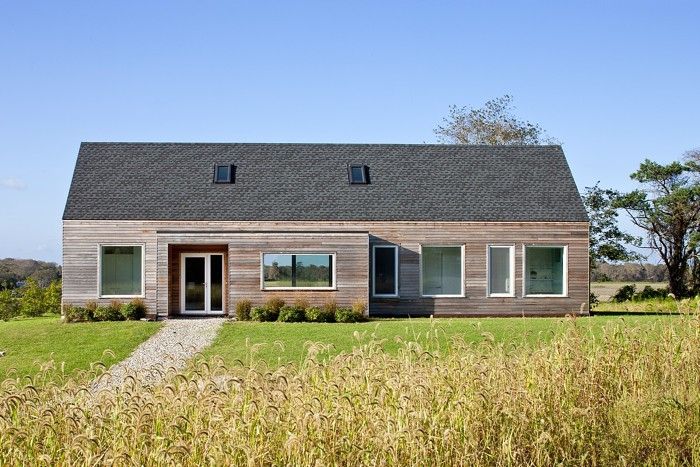 OVERVIEW
This vacation residence located in a beautiful ocean community on the New England coast features high performance and efficient use of space in a small package. ZED designed the sleek, simple, gable-roofed structure and proposed the Passive House standard. The resulting home consumes 86% less energy compared to a similar new home built only to code requirements.
DESIGN CHALLENGE
The homeowners sought a modern two-bedroom, two-bath private retreat that was right-sized for their family – nothing more, nothing less – and a goal of minimizing energy usage. The site offered excellent southern exposure, paired with the challenge of a lovely north-facing agrarian view.
The family, who unfortunately had lots of experience with drafty, inefficient homes, immediately latched onto ZED's suggestion of the Passive House Standard for both energy savings and improved comfort. A combination of exceptional insulation, air sealing, high performance windows, and passive solar gain reduces the heating requirements to a fraction of those of a typical home, requiring only a very small heating system. They now enjoy a space without uncomfortable wintertime drafts and an even temperature throughout the home.
CERTIFICATIONS
The home is Energy Star certified and LEED Gold certified.
TEAM
Architecture, Passive House Consulting, and Mechanical Design by ZeroEnergy Design
General Contracting by AEDI Construction
Passive House Retreat southern elevation.
Red gable end of the Passive House Retreat.
Triple pane slider from the patio into the great room.
Dining area and south facing view.
Cathedralized kitchen with loft.