Big Sky, Nelson New Zealand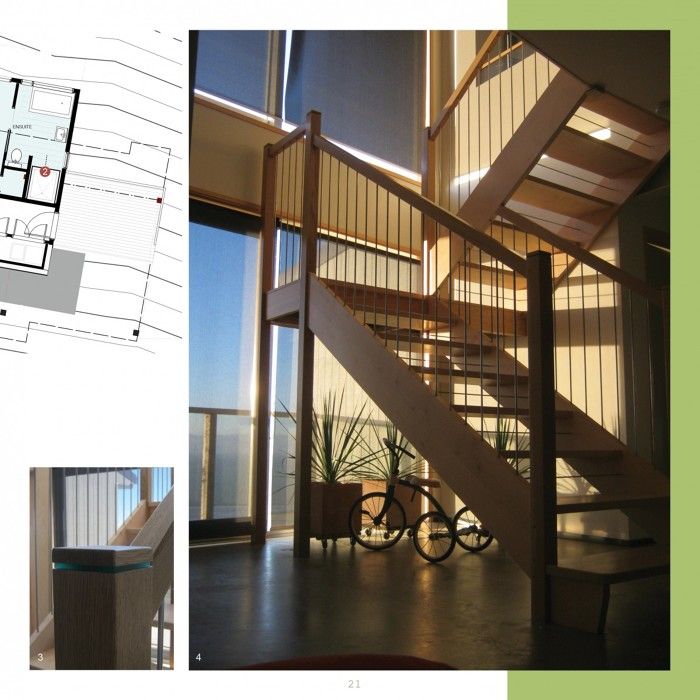 The design brief calles for a modern style with an eco approach. As the main house on an organic permaculture-based semi-rural block, the same principles applied to the land had to be instilled in the house, while at the same time achieving a clean modern look. I believe full eco green functionality can be achieved without resorting to an "alternative" aesthetic.
Situated 900 feet above and overlooking Tasman Bay, the entire section is a steep slope, posing the main challenge. The traditional/conventional approach in NZ is retaining walls and timber pole structures. Bringing a wider view I decided that minimal cuts into the hillside and the use of a steel and concrete sub structure would anwer all the requirements while remaining cost effective.
The concrete slab includes underfloor heating pipes, and insulation, and is the finished floor. The entire project was designed as a forward-going procedure, i.e. no going back to cover up, embelish, or hide.
The lower floor is a designated luxury B&B, with two suites, separate entrances and decks, and a common dining area. Corridor and passageways were used to house laundry and storage, and an office, so almost no floor space is wasted.
The design is ingeniously simple – two identical structures (in size and engineering), connected with a "wedge" that makes them sit well on the contour, and includes the main entrance, stairwell to lower floor.
Water is heated by solar panels, and/or a "wetback" in the wood burner. Consequently, no energy other than wood from the property is used for heating or water heating. The in-floor piping is there because there is only one chance to pour concrete, but it has not been necessary to use it as yet.
There is a diverse water system – a backup option for city supplied water, which has never been used, and a rainwater collection system supplying all household and garden needs. A windmill pumps the water from retaining tanks to a gravity tank, thus increasing capacity as well as eliminating the need for electric pumps. The house is prewired for solar electricity, but currently connected to the grid.
The photos are from a one-of coffee table book I made to show my guests the process of creating the place.