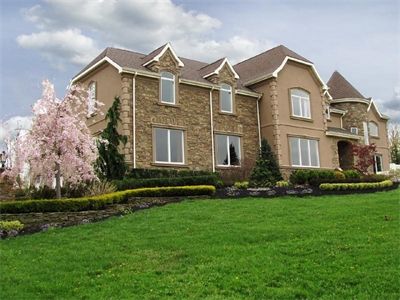 When my brother Jarrad purchased three acres and an old ranch-style house, he had a dream of building a castle filled with an illusion of a simple paradise.
By removing the overall shell of the existing ranch-style house and keeping the original cellar he began on his course of creating what seemed like a remarkably ambitious, perfectly peaceful, modern-day castle.
The design stipulation which created the long-term character of the home were few: incorporate flexible, efficient and comfortable spaces; allow for open space which brought in nature via fresh air, passive solar gain and earth elements and engineer hallways, ceilings, walls and exterior structures which bespoke boldness and elegance.
Jarrad had a belief that a room should be able to entertain many possibilities of use and not merely have one value. To this end the rooms strive to offer duality and simple comfort with an emphasis on convenience and the welcome feeling towards the gathering of friends and family. He also wished to create rooms which felt as though one were outside and enjoying the natural elements of sun, fresh air, cool breeze and rustic stone. The stone fireplace in the great room and the stone back wall in the kitchen bring "back-to-the-basics" into everyday life.
              Another goal was to add interest to the hallways, doorways, ceilings and stairways by building in graceful, elegant and defined attributes.
 Delicate molding and impossibly structured wainscoting added traditional eloquence to the hallways, doorways and ceilings engendering an interest in the unique, geometric design of them. In particular, the wainscoting and molding became a personal passion for my brother Jarrad.
 The stairways proved to add curiosity to the character of the house with their intricate design and easy-to-approach style.
 The exterior of the house provided a frivolous, fairytale castle appearance with commandingly "fun" window turrets and a majestic entrance door.
The playful arrogance of the turrets becomes softened by the varied texture and color of the stone exterior and the welcoming stone walkways surrounding the house.  
               As Jarrad was the general contractor and designer for the project, costs were lowered greatly and budgets were met. Much of the material was locally obtained or purchased and the subcontracting also was locally sourced.  All who worked on the project had an enthusiastic desire to meet the challenge of building a fine, fun and simple castle.
 Fine Homebuilding Magazine was the impetus for parts of the design ideology and practicality as well as being a helpful source for combined knowledge of construction and completeness.  
Along with the help of the magazine and Jarrad's passion for perfection in intricate design, his dream came true in building his first home!
*Note: Pictures were taken by an agency. *