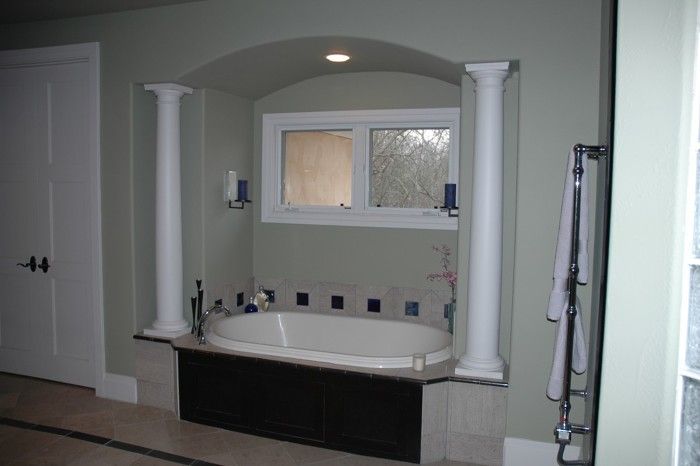 This bathroom remodel blends hotel luxury with personal panache. The client's previous bathroom was too contemporary for his tastes & was also too large with a lot of unused space. Our goal was to recreate the bathroom making it more traditional, yet quietly elegant. The client compared his shower to a 'cave' and wanted to make the shower larger and more inviting. We decided to swap the location of the tub and the shower in order to install a larger, more relaxing shower. In doing this, the tub became a sculptural element and focal point of the room. We nestled the tub in the corner of the room and flanked it with two highly functional teak benches. We placed a sleek metal spout within a teak bowl which had to be retrofitted to extend the water deep into the tub. The walls of the room become an impressive piece of art. Each tile is a piece of 1/16 inch thick stained glass in tortoise shell colors, sourced by Architerra Studios. These walls with striations of different tile heights were carefully laid out by two people over a 2 week period. The new shower has a slight slope to the floor and a slot along one side allowing for sleek drainage. We included v-shaped frosted glass panels allowing natural light in from the masterbedroom foyer. The toilet area & closet remain in the same place; an additional closet was gained by changing the bathroom entry and the foyer and getting rid of a coffee bar that the client never used. Across from the shower rests a double-layered teak vanity with white, square vessel sinks from Ronbow and fixtures from Axor. The first level of teak provides hidden drawers. A towel rack extends the length of the vanity just under this first level. The second level serves as more storage above the floor. Each of the two mirrors conceals medicine cabinets. The client said the outcome of the remodel was "much better than [he ever could] have hoped".
This is a before image of the bathroom. 
This is an "after" image of the tub and the stained glass walls.
This is an "after" image of the shower and vanity.
This is an "after" image of the vanity area and the frosted glass v-shaped niche we added to bring in natural light.
Another "after" image of the shower and whole bathroom with custom made teak benches.