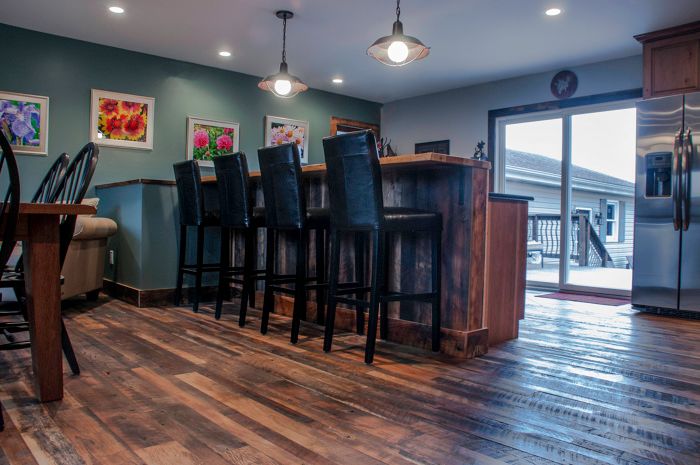 This kitchen is part of a first floor remodel.The home is less than 1000 square feet, so the owners wanted to maximize their space.The original plan contained an L-shaped kitchen with a wall separating the kitchen from the dining/living space.The wall was removed and the kitchen layout was reconfigured to include two L-shaped layouts.The owners frequently entertain and wanted a space that would allow the cook to visit with guests while still tending to dinner preparations.The raised bar and open concept allows everyone to be part of the action.Unique materials in this design include reclaimed, mixed hardwood flooring and trim in varying widths; a reclaimed, red and grey elm, live-edge bar; and Mexican beach stones for cabinet knobs.
No one is left out with the open design. Design and construction - Darrin Stocum - Target Builders, Watkins Glen, NY
Quartz countertops and stone/glass backsplash provide a durable surface that's easy to clean.  The Big Ass fan circulates air evenly throughout the space. 
Knotty cherry cabinets, with natural stone knobs, and reclaimed hardwood flooring contribute to the warm feel of the room.
Cabinets that extend to the ceiling maximize storage.
Reclaimed, live edge, red and grey elm bar.