Revisioned Ranch Master Suite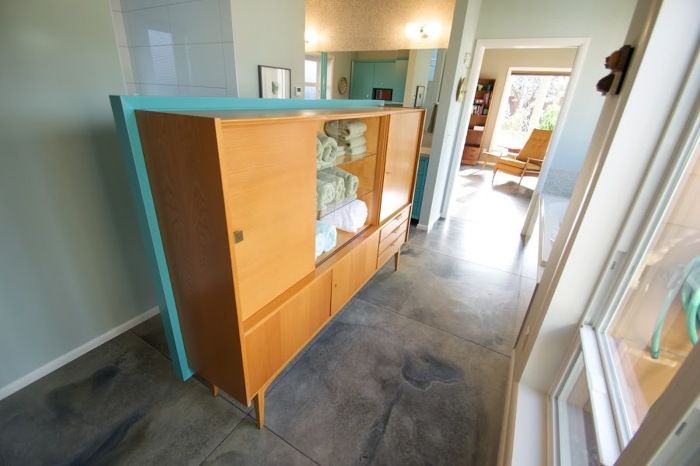 Many of my clients who are nearing retirement are more interested in staying in their homes and are now ready to reinvest for an upgraded kitchen and master suite. As good timing would have it, the 50's ranch is back in vogue, with all things mid-century being in style.  Our problem is common with the standard layout of the 3 bedroom, 1 or 2 bath ranch: how to add an addition to the back of the home? This almost always involves giving up a bedroom for access to the back yard and the new addition.  Our design called for creating an "L" to the simple rectangle ranch plan and using the old bedroom as access.
Open plan bath serves as entrance to the master bedroom.  Danish modern credenza functions as a room divider.
This view looks towards previous bedroom, now repurposed as entrance and walk-in closet.  The rich "cloud-like" finish to the concrete slab is achieved by spritzing acrylic dyes onto the raw concrete.
Entrance to shower room (left) is enhanced by the cabinet maker's contribution to the credenza.
This carefully designed vanity was created to evoke period furniture.  The drawer depths vary to accomodate plumbing.  Recessed center bay contains make-up drawer and a place for a stool.
The tub/spa is intimately located in an alcove  overlooking the garden.