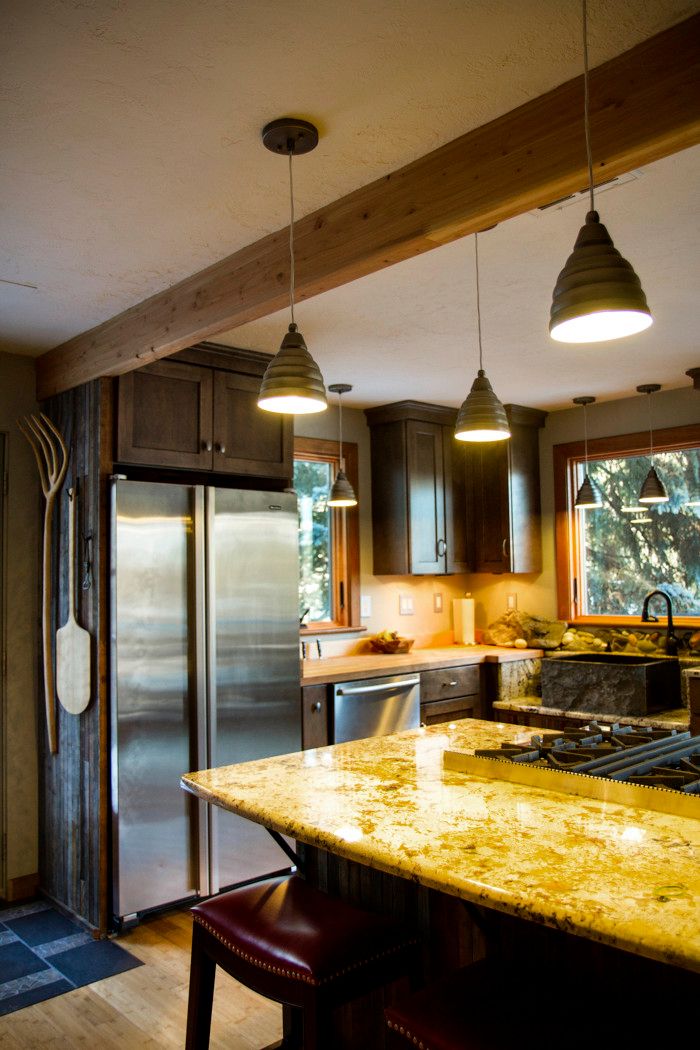 This is an owner-designed, architect-engineered remodel of a 50-year-old kitchen. Walls and built-in furniture were removed and a window was added, giving the kitchen a much more spacious look. Aside from modernization, the primary design goal was to "bring the outside in", using natural elements and local materials. The house is situated on a river in the Northwest. A dark granite sink, granite counters, a stone backsplash, wood floors and cabinets, and reclaimed "stickers" from a local saw mill were incorporated. 
The existing kitchen was not effectively laid out, having the (added) dishwasher exactly next to the sink and in a corner. The refrigerator was in it's own corner, with no flat surfaces nearby to place items. Altho the east side faced the river, the only window faced north, with a view into the yard. Cabinet space was sufficient, but not flexible or convenient to use. Furthermore, the layout included a long dark entryway/hall parallel to the kitchen that had a small desk area. A pass-thru built-in hutch separated the kitchen from the dining room. 
Our design addressed all these issues. 
View from office area/hall across penisula. The beam indicates where an existing wall was removed. The window over the sink was added, and the window to the left of that was replaced.
On one side of the penisula the base cabinets were left natural (maple), and tie in with the butcher block counter over the dishwasher. The remaining counters are granite.
A carved black granite apron-front sink was installed on top of a low double-door cabinet. The goal was to suggest a woodland pool. A river rock backsplash and granite sculpture of a dipper add to the nature theme. Note the use of reclaimed doug fir slats to face the lower cabinet doors.
View from hall toward back door showing office area and cabinets on left, counter-level seating on right.