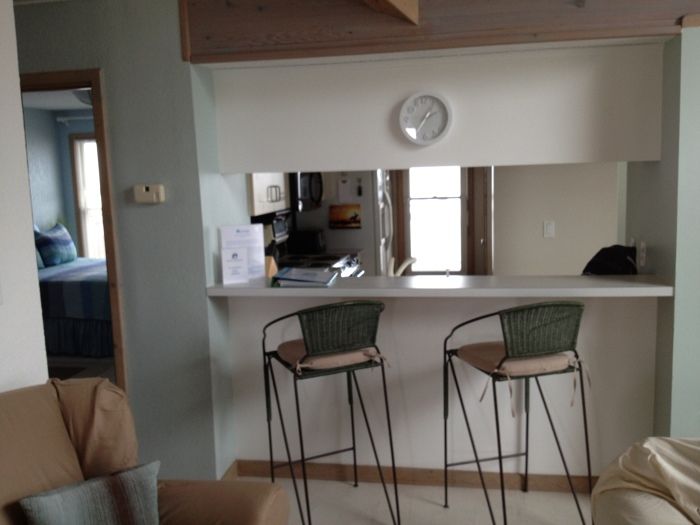 This is a remodel of a 1980s ocean front condo kitchen. All the cabinets were the original cabinets from the '80s. The condo is small only ~1000 sqft, and we couldn't add on, so we were stuck with using the original foot print. The kitchen in the origianl configuration had virtually no counter space and was virtually closed off to the other living and dining areas. Also the kitchen was not functional nor could more than one person work in the kitchen at the same time. Our goal was to open the kitchen to the other living and dining areas, provide more usable counter space, and make it more functional where more than once person could be in the kitchen at the same time. Also being on the ocean we wanted to have a more coastal feel with the remodel
Original front of kitchen as you walk into the condo. This is a raised bar top with the sink behind the bar top. The open space to the kitchen is about 2' tall.
This is the back side of the bar top showing the sink area. You literally have to bend over to look out into the living area.
This is the original entry to the kitchen along with a picture of the small wet bar. You can see the small working space in the old layout as well as the original '80s cabinets
The new galley style kitchen. Where there was once the entry and wet bar is now a large functional working/serving space. Note the refrigerator was moved to the other end to provide even more working space next to the range.
The kitchen is now open to the entire living and dinning area. No more looking through "peep" holes. We now have almost 6' of counter space to work with.