Fine Homebuilding Photo Contest: Gallery of Great Garages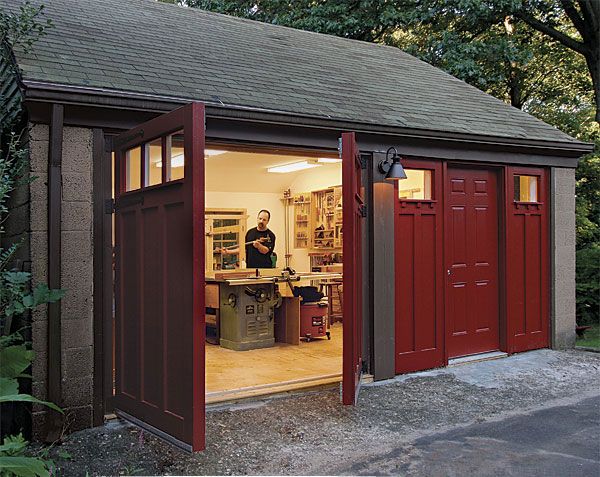 Fine Homebuilding's "Gallery of Great Garages" Contest
In our Houses 2014 issue architect Krista Becker invited us to step "Inside a Modern Remodel" where we learned how she converted her garage into an awesome playroom for her son. Becker's project isn't the only revamped garage we've seen in the pages of Fine Homebuilding. In our May 2011 issue (# 218) architect Linda Reeder shared how she redesigned her clients' two-car garage to create a "Sanctuary in the City." That got us thinking, who else out there has reconfigured their garage to turn it into a playroom, family activity area, cabana, bedroom, man cave or other living area? Who's turned it into a state-of-the-art workshop? And who's just totally tricked out their garage to make their car's quarters the envy of the neighborhood? If you've got a great garage (or what had once been your garage), we want to see it. Your project can be of any scale, any budget, and any type–as long as your garage has undergone a total transformation or is a special feature on your property.
There are two ways to win, and your entry could win you your choice of one of five great prizes. 
How to win:
Random drawing: Monday, July 21, 2014 is going to be a lucky day for one early poster to our contest. At 10am (ET) that day we will randomly select one of the projects posted to-date as the winner of our random drawing. The person posting that project will select his/her choice of one of the five prizes offered. So get those entries in early and you might win yourself or dad a great Father's Day gift!
Editors' Choice: At the close of the contest the Fine Homebuilding editors will pick their favorite "great garage" from all of the projects submitted during the contest period. The winner of the Editors' Choice will select his/her prize from the four remaining prizes being offered.

Have fun and good luck!–and now the legal department wants you to read the following:
OFFICIAL CONTEST RULES
NO PURCHASE NECESSARY TO ENTER. Entries for this "Gallery of Great Garages" Photo Contest (the "Contest") will be accepted during the period beginning at 12:01 a.m. ET on July 7, 2014 and ending at 11:59 p.m. ET on August 6, 2014 (the "Contest Entry Period"). All entries must be received during the Contest Entry Period. The Contest is open to legal residents of the United States and Canada (except Quebec), who are at least 18 years old.
TO ENTER: There is one way to enter the contest. Create a free account if you do not already have one by entering your first name, last name, email address, password, security question and screen name. Once you have created your account you can then navigate to the contest form (https://www.finehomebuilding.com/share/gallery?contest=131), enter a title, upload your photos, add a brief description of your project, and submit your completed online entry form. All entries become the property of the Sponsor and may be published in any media and in any format at any time they wish in perpetuity.
PRIZE/VALUE:
Five prizes will be offered and two will be awarded.
Winners get to choose one of these great prizes:
– Sola Electronic 48 Inch Aluminum Digital Level 48 Model ENW 120 with carrying case
– Bostitich GF28WW Cordless Wire Weld Framing Nailer
– Bostitch Impact Wrench and $100 credit to spend on books and more in the Taunton online store
– DeWalt compact Worksite Radio and $100 credit to spend on books and more in the Taunton online store
– $250 credit to spend on books and more in the Taunton online store
Each prize has an approximate value of $250 or more.
Names of prize manufacturers are used solely for the purposes of identifications of the prize. No endorsement, authorization, sponsorship, or approval of Taunton Press, Fine Homebuilding or of this contest is intended or implied.
TERMS/CONDITIONS: No transfer or substitution of prizes. Employees, officers, and contractors (including immediate family members and members of the same household) of Sponsors, affiliated companies, subsidiaries, distributors, dealers, retailers, vendors of Sponsors, and all other entities associated with this promotion, are not eligible. All Federal, State/Provincial and local laws apply. The winners will be responsible for all Federal, State/Provincial, and local taxes related to prize.
Sponsor not responsible for unavailable network, failed server or other connections, miscommunications, interrupted, misrouted or scrambled transmissions or other errors or problems of any kind whether mechanical, human, electronic or otherwise. The Sponsor assumes no responsibility for lost, stolen, delayed, damaged or misdirected entries or for any failure of the website during the contest period, for any problems or technical malfunction of any telephone network or lines, computer on-line systems, access providers, computer equipment, software, failure of any e-mail entry to be received by Sponsor due to technical problems or traffic congestion on the Internet or at any website, of any combination thereof including any injury or damage to an entrant's or any other person's computer related to or resulting from playing or downloading any material related to the contest. The Sponsor reserves the right, in its sole discretion to cancel or suspend this contest should a virus, bug or other cause beyond the reasonable control of the Sponsor corrupt the security or proper administration of the contest. Any attempt to deliberately damage any website or to undermine the legitimate operation of this contest is a violation of criminal and civil laws, and should such an attempt be made, Sponsor reserves the right to seek remedies and damages to the fullest extent permitted by law, including criminal prosecution. Entries are subject to verification and will be declared invalid if they are illegible, mechanically reproduced, mutilated, forged, falsified, altered or tampered with in any way. Entrants to abide by the Contest Rules and decisions of the judging panel which are final.
WINNING. Random drawing: On July 21, 2014 at 10am (ET) one winner will be selected at random from all entries received thus far. The winner will be notified by email.
Editors' Choice: On or about August 7, 2014 judges will choose one winner from among all eligible entries received. Entries will be reviewed and judged by a panel of qualified judges. Entries will be reviewed and judged on the basis of the following criteria: Overall quality and appeal of the project; Photogenic Qualities; and Appropriateness to contest theme. The winner will be notified by email. Judges decisions are final. Odds of winning will depend upon the total number of eligible entries received. One prize per person, household, or family.
CLAIMING PRIZES: The winners must sign and return an Affidavit of Eligibility and Liability/Publicity Release within 10 days of notification, or prize may be forfeited. Winners will also be required to provide proof of age. (Tennessee residents will not be required to sign Publicity Release as a condition of winning a prize.) All prizes will be awarded.
WINNER'S LIST: Send self-addressed, stamped envelope by August 10, 2014 to: Fine Homebuilding – "Gallery of Great Garages" Contest Winners List Request, PO Box 5506, Newtown, CT 06470.
SPONSOR: The Taunton Press Inc., Fine Homebuilding magazine 63 S. Main Street, PO Box 5506, Newtown, CT 06470-5506.
A workshop is possibly the most common alternative use of an old garage. Fine Woodworking art director Michael Pekovich's total garage shop makeover is a prime example.
Architect Krista Becker converted her family's garage into a playroom with drywall, a glass-panel garage door, and carpet tiles.