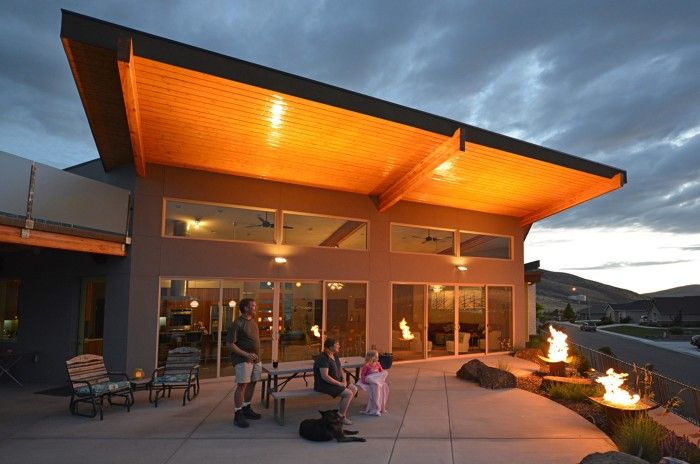 The site we chose to build on is at the base of Badger Mountain, a natural preserve. The north street-side boundary is raised 18 feet above the street with an engineered block wall. The east and west sides of the site also has engineered walls, creating a flat lot. The elevated property created a private, quiet setting with views. We believe that the lot dictates the house design and set out to create the house orientation and floor plan to maximize the views and privacy.
Our design goals were a low maintenance, open, modern concept, to bring as much natural light inside as possible and to showcase the city lights and mountain views and spectacular sunrises and sunsets. We wanted to feel relaxed, comfortable and as if "on vacation" even though we were at home.
We created a master wing and guest wing concept around the main public space, the great room. Living in wine country, we often have visitors and this setup works well. The great room boasts expansive views and exposed beams from the front door, extending to the back, including a ten-foot overhang for the back patio. The northeast overhang provides welcome shade on hot summer days. 
We worked to stay within budget while incorporating several features to meet our needs. A murphy bed was built into the media room for extra guest space and reinforced trusses to allow a model railroad to be lowered from the ceiling, creating a true multipurpose room. A stunning glass and steel wine room with a cork back wall in the great room and two gas fire pits made out of tractor plows on the patio are just two examples of the steelwork. Wide halls and doorways with no steps make the house wheelchair-accessible should we need it as we age. 
We live in the desert and our landscape theme was drought-resistant, sun-loving plants and trees and no grass to mow. For the exterior house finishes, we selected a combination of stucco, variable width hardy planks (horizontal install) and hardy panels with stainless accents (vertical install) to add interest and highlight the different angles and rooms of the home.