Second Time's A Perfect Match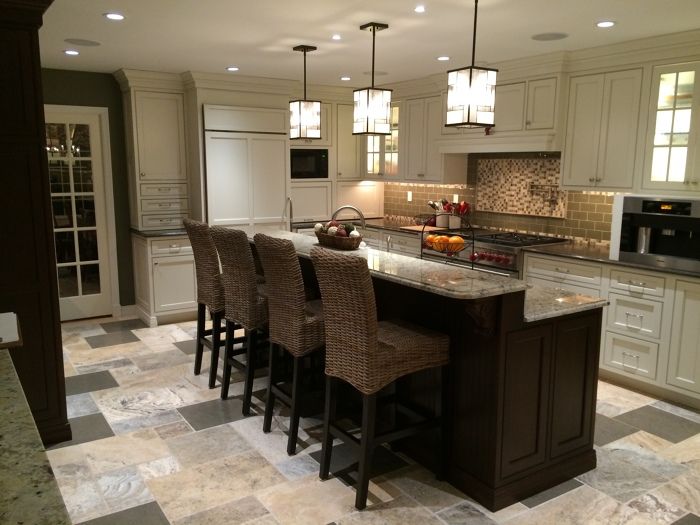 Almost 10 years after our first kitchen remodel in 1996, we wanted to finally match the scale of the kitchen to the rest of our elegant 1948 home. With this project, we improved the home's entry foyer, relocated a powder room, and widened the entry into the kitchen. A 325 square foot addition served to open up the U-shaped kitchen, creating separate zones for cooking and cleanup, with a second dishwasher for parties (part of the addition also created a 100 sq. ft. walk-in closet in the upstairs master bedroom). The breakfast room was moved to take advantage of views of the property, with sliding glass doors to the patio. A clerestory window replaced a set of double-hung windows into an office, which added light when it became an interior space. Part of the old breakfast room became a mudroom, with room for a large dog crate and an elevated dog shower. An awkward landing and closet below were boxed in, creating storage for large, bulky items and cleaning supplies, while extending a wall to create a butler's pantry by the entrance to the dining room. We also added a multi-paned glass pocket door to maintain light but also provide intimacy in the dining room. The result is a beautiful, and functional kitchen that matches the rest of the house.
A large functional island anchors the cooking area, while pendant lighting and the tile backsplash complement the pattern in the limestone floor.
The cooking area has lots of counter space and storage as well as a second dishwasher.
The cleanup area, with a deep bowl sink and views of the property, is separate from the cooking area, and convenient to the breakfast room beyond.  
A new butler's pantry wall is convenient to the dining room and adds more storage.
Wainscoting in the breakfast room continues the traditional theme of the entire house. The wall color echoes the dark limestone in the floor.