A Cape Cod Becomes Spacious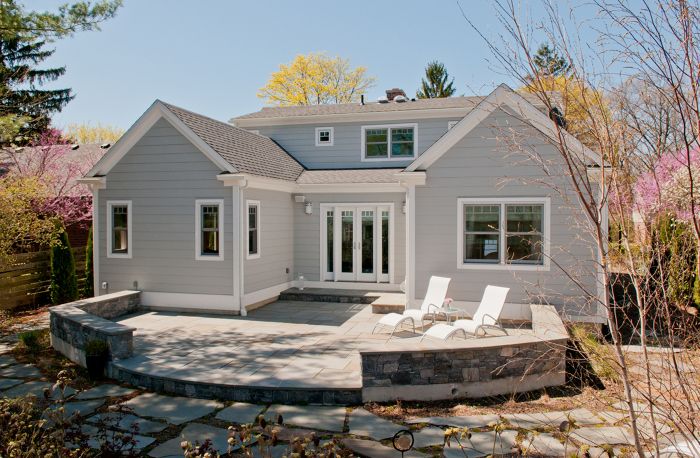 Once their three daughters were grown up, the owners of this 1930s Cape Cod decided it was time to rethink their home. They had lived with its quirks – including only one bathroom – for 25 years before deciding that a complete redesign was in order. Because they plan to live in this home for many more years, they decided that a first floor master suite was a priority. They also wanted to address the poorly-designed, small kitchen, which had four doorways opening into it. In addition, they wanted to add a family room open to the kitchen, a dining room large enough for family gatherings, two bedrooms large enough for their daughters' future families to visit, and another full bathroom.
Other considerations included improving the energy-efficiency of the home and completely eliminating any back yard to mow.
Studio Z's design includes a good-sized addition to the first floor containing an open kitchen, dining room, and family room. The original kitchen and dining room were flipped so that the TV in the family room could be visible to the cook. Several walls, doorways, and closets were removed near the entryway to open up the floor plan, and the original full bath was redesigned as a powder room. The original front bedroom was converted to a den with a built-in Murphy bed, while the original middle bedroom was made into a master bathroom and walk-in closet. A new spacious master bedroom was built behind this part of the house. Upstairs, most of the original hipped roof was removed and replaced by a gable roof with a shed dormer across the back of the house. This allowed two large bedrooms, a small loft, and a good-sized bathroom to be constructed in place of the single large bedroom that was originally upstairs.