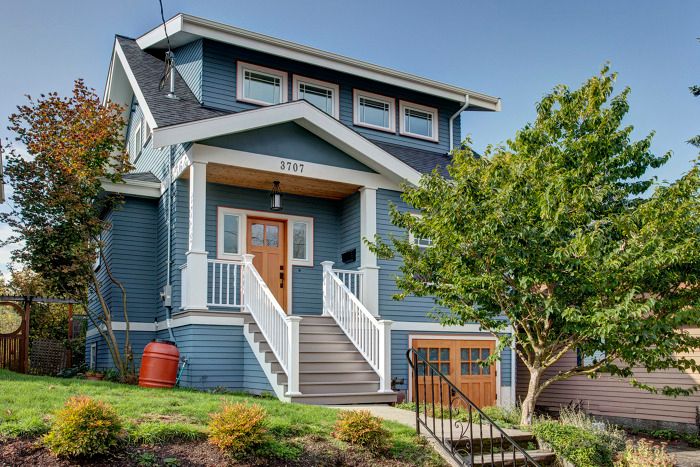 This second story addition and new front porch help solve the need for more space while retaining the charm of the smaller home that the Owners fell in love with. The new upstairs features two smaller children's bedroom each with a unique feature to help combat the smaller square footage (a sleeping loft and a window seat with built-in bookshelves) and a simple bathroom for the kids. With some creative space planning Board and Vellum was able to also include a Master Suite complete with a walk-in closet and separate Master Bathroom. In a surprisingly compact 740 square feet this addition adds tremendous value and use to the house without overshadowing the neighbors or being out of scale.
In lieu of the traditional approach of locating the new staircase above the stair to the Basement, a generous stair was provided in a former first floor bedroom and now Foyer to help provide a sense of scale to the home and a sense of welcome. The new front porch also helps ground the house and provide a generous place to take off your shoes or sit with the neighbors.
From the street, we kept the 3 bedroom, 2 bathroom addition on the top concealed by a simple shed dormer which reduces the impression of bulk and keeps the house looking cozy and comfortable. Wood carriage doors and a recessed front porch given some prominence help create a welcoming street presence.
The entry spills into the Living Room and a double sided glass cabinet helps divide the space while still feeling open.
This bedroom uses a white board panel on barn door hardware to provide fun and function to the closet along with a metal pipe ladder and rail for the sleeping loft above. An industrial pendant light helps accent the pipe railings.
This child's bedroom is small but careful use of space provides plenty of functionality and character. The recessed window seat provides a comfortable space to read a book and provide character to the room.
A new fireplace insert and surround update an older fireplace while an arched opening into the adjacent kitchen allow easy conversation and transfer of food and drink.