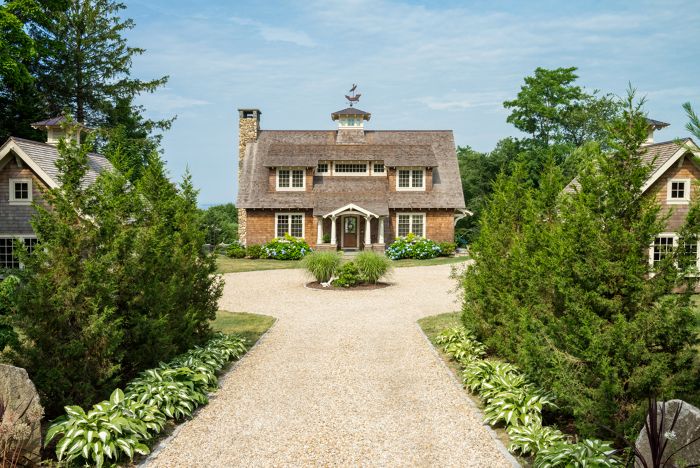 NOTE: Many more pictures of the residence can be found here on Houzz
http://www.houzz.com/projects/1168701/0911-pen-march-bristol-ri-residence
This new shingle style bungalow is designed to fit seamlessly into a historic beachside community in Bristol, RI. The clients were insistent that their home match the context of its neighbors in scale and style, yet be hand crafted in every detail. A desire driven by their love of old boats and fine millwork. They own a local window distributorship and millwork company. Our solution attempts to recreate the essence of the original New England shingle style bungalow but then overlays a culturally sustainable ideology based on locally sourced materials and local labor. It is intended to have a true connection to the culture and scale of the site, the neighborhood, the town, and the region upon that it sits. The home features true historically proportioned details, but with a completely modern floor plan that takes advantage of the spectacular views out to Narragansett Bay.
The owner, a lifelong sailor, needed storage for two cars and sail loft storage, so we proposed two symmetrical carriage house style garages, each connected by a Cape Cod style circular front driveway to provide a welcoming and casual sense of arrival as you feel and hear the sound of the pea gravel under your feet. New England!
The locally crafted custom mahogany Dutch front door provides a portal to the main stairway foyer that features a custom designed ship style monitor with clearstory windows 2 ½ stories above and a custom stairway inspired by historic wooden boat design. This entry sequence sets up panoramic vista across the great room to Narragansett Bay beyond. The main living area of the house is a single open great room designed about modern living, yet detailed and appointed in a historic and simple bungalow aesthetic. This great room has been subtly mediated into three separate areas for the kitchen, the dining and the living functions through the use of beams, coffers, and bead board on the ceiling plane.
On the second floor is a more private realm with the master suite that contains a private balcony and a guest bedroom. At the basement level there is a large entertaining room with a walk-out to a terrace.
Throughout the project we sought to balance the old with the new with an almost religious allegiance to relating to the architectural fabric and cultural history around us. The result is an architecture of today with a solid connection to its roots.