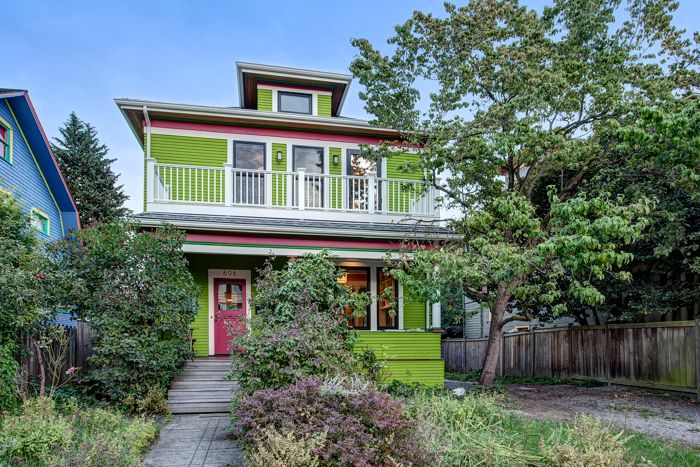 Seattle "Box" homes are prized for their stately appearance and generous floor plans. What isn't often provided though is an easy way to convert these older homes into homes with generous and open living spaces. This project keeps the formal nature of the 'three in a row' formal rooms and opens the back of the house and the final room to the kitchen. An operable wall of glass helps connect the house to the yard and let light pour into the home. A centrally placed fireplace is viewable from all the main rooms in the house and helps anchor the entire plan. A wide galley kitchen opens towards the back of the house with an island facing the new family room. Careful design of the casework provides a clean and contemporary look while not looking out of place in a 1902 home.
The brightly colored home helps contrast the dark Seattle days and works well with the adjacent homes which are also bright colors. Landscaping is a future project. J
A custom library ladder works in the Kitchen and also the Living Room. 
The Living, Dining, and Family Rooms open into each other and are trimmed by bright white trim for a fresh and dramatic appearance. 
Two smaller bedrooms were combined to create a generous Master Suite with a dressing area and built-in closets. 
A custom built room for LEGO storage also provides a backdrop for a Media Room and a nearby bar.