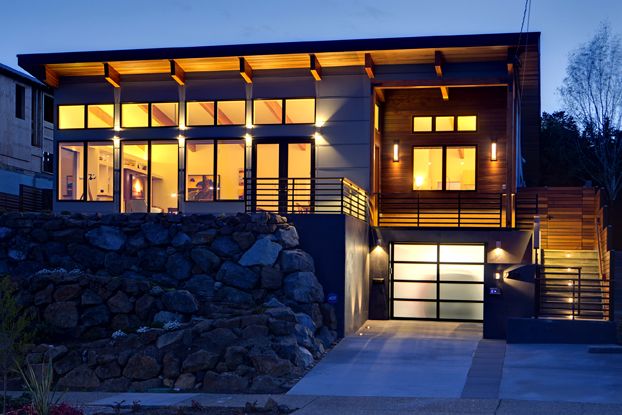 At the outset, our Magnolia client asked us to give their 1950's house a new look. They had enjoyed 19 years living in the house but longed for tall ceilings, a little more space and a modern look. The house was entered via a winding stair through the middle of the steep slope front yard. The low ceilings made the living spaces feel cramped.
The clients were considering a second story addition with living space at the top, but we persuaded them to add space to the main level instead and take advantage of the view at patio level, not to add more stairs, and keep their budget more reasonable.
The magic of the project was that we added 5′ to the front of the house, changed the roofline, and completely transformed the house on the outside.
The house was close to a designated steep slope that has a fantastic view of Mount Rainier, perfect for an outdoor patio, but the central entrance to the house bisected the front yard reducing its potential patio space to half of what it could be. Further, the front door opened onto a view of the bathroom. We moved the front entrance to the side of the house to maximize the private patio and separate it from the front entrance, which was very challenging due to the topography but allowed the front door a view of the fireplace and a spectacular view of Seattle as one entered.
The original kitchen was functional but on the small side and didn't connect with the other living spaces. The clients wanted to enjoy larger spaces and be able to prepare food for guests while entertaining at the same time. We achieved the client's desire of living in a large open plan space, which also spills out onto a private patio with views of Seattle.