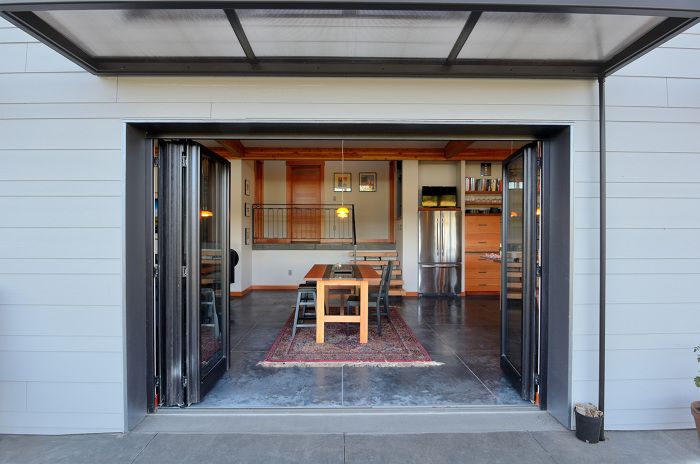 Designed to reduce energy consumption by 80% of a code built house, this project was the dream of owner Steve Carlton.  His principles of comfort, efficiency, and material use drove his decisions. Influenced by the books, "A Pattern Language", and "The Not So Big House", he worked with Haven Design Studio to further his floorplan and design ideas. The house was modeled on SketchUP to maximize passive solar and natural lighting. Bellingham Bay builders joined the team to finalize building details, research cost optimization, and build his home.
Relentless attention to detail was needed to meet the goals of the project.    Double wall construction, triple pane windows, and a blower that tested at 1 ACH allowed for an efficient building envelope. High thermal mass from an insulated five inch concrete slab and phase change material behind drywall keep temperature fluctuations to a minimum.  A single head mini-split heat pump and a HRV regulate temperature and indoor air quality leading to a healthy comfortable living space. Water consumption is reduced by running 3/8″ plumbing lines to conserve the precious resource that is captured and filtered on site. Cement board and metal siding over a ½" drainage plane combined with a seamless metal roof minimize maintenance and promote long term durability. The house sits naturally on 17 acres of conservation and farm land using minimal energy and ready to stand the test of time.
This 1800 sq ft North West Energy Star project is part of the NEEA pilot project Next Step Site Built Homes program. A series of sensors will monitor the house for the next two years. The results will help identify the most cost-effective methods for achieving the greatest amount of energy savings, while paving a pathway for future code adoption.