Little House on the Ferry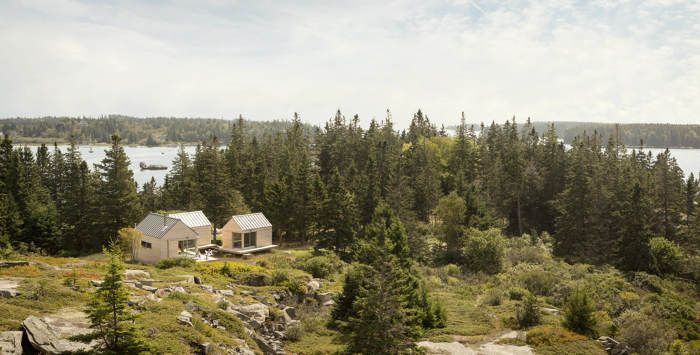 Little House on the Ferry is seasonal guesthouse comprised of three micro cabins connected by a web of outdoor decks on Vinalhaven, an island off the coast of Maine in Penobscot Bay. The design is respectful of the balance that nature has struck on the island between harsh forces of wind and sea and a delicate layer of soil that provides a scant foothold for vegetation among granite outcroppings – some of which have been hewn by time, and others split and left behind as a visible memory of the once prevalent granite industry of Vinalhaven.
The small cabins hover on piers above a former quarry. This construction approach has minimized the impact of the building construction on the delicate recovering vegetation in the quarry. The cabins are comprised of a living and dining cabin and two separate sleeping cabins, each with a bedroom and bathroom. Together, this small cluster creates a series of intimate and private spaces with strong visual connections to the landscape.