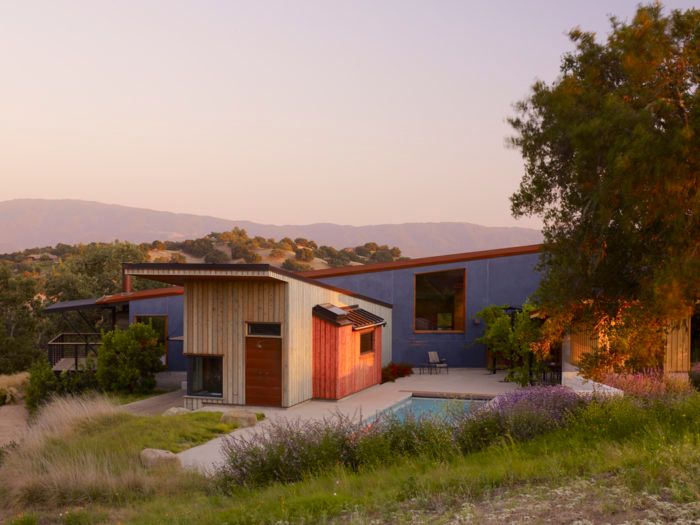 Our clients, former gallery owners and serious art collectors, wanted to build an energy-efficient house and a small studio in the country. The house is in the Santa Ynez Valley in Southern California near Santa Barbara, where the climate is Mediterranean. Strong breezes from the west make for surprisingly cool late afternoons and evenings. The exposed ridge site can be viewed from a few neighboring properties in the hilly terrain, which raised concerns about visibility within the local planning authority and needed to be addressed. The area in which we could build was also restricted to a small pre-existing "building envelope."
To begin to conceal the house we carved into the steep hillside and slid it down the slope into the trees. In our discussions with the clients we came to see the house as a device to connect to and observe the landscape. Openings frame near and distant views, of sculptural live oaks and neighboring mountain peaks. Outdoor rooms further blur the distinction between inside and outside.
The main volume is an east-west-oriented wedge that functions as a continuous dining/living/gallery space. The kitchen wing and master bedroom wing pierce this wedge and extend out to form protected courtyards to the north and south. The studio stands free of the main structure and defines and shelters the entry. Steel grating shades outdoor rooms, and operable wood screens provide shelter from western winds. Exterior shading, combined with the thin building sections and generous openings, keeps the house cool in the summer. Combined with site walls and trellis structures, the landscaping—composed of drought-tolerant natives—further defines the outdoor rooms and makes a gradual transition into the natural landscape. Collaboratively chosen by the architects and clients, the colors of the stucco wedge and wood outshoots, which are not shy, were all derived from the site geology and natural vegetation. The fragmented massing, the weaving together of new and existing vegetation, and the varied colors inspired by the larger landscape camouflage the house which blends in at a distance and satisfied the planning department and design review boards' concern regarding scale and visibility.