Raised Ranch Becomes Modern Farmhouse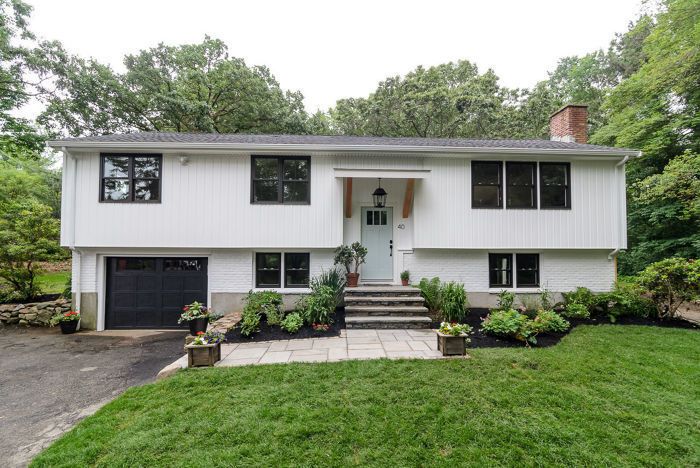 Lets face it – most raised ranches are bland, bland, bland. Our project started with a typically unremarkable design that included a flat exterior, dark and cramped living/dining/kitchen quarters, small bedrooms, and outdated bathrooms. Since a tear down / rebuild solution was out of the question due to local zoning and budget concerns, we opted to work with the existing structure and do our best to convert it into a modern farmhouse. By removing three partition walls we created one large room with defined kitchen, living, and dining areas. An abundance of natural daylight now floods the new space thanks to its southern orientation. The ceilings were raised to 9′ to add to the perceived space of the room. An addition off the rear corner makes way for a new master bedroom, while the old corner bedroom was re-purposed for a new walk in closet and master bathroom.
On the exterior, worn shingles were replaced with fresh board and batten siding. A new overhang with large fir knee braces above the front door provides much needed depth and texture to the otherwise flat facade. Concrete steps were updated with natural stone veneer and bluestone treads. At the rear of the house a large 400 sq ft mahogany deck provides ample space for entertaining. Instead of opting for a railing that would close-in and separate the deck from the backyard, we opted to create 'bleacher seating' – essentially large stairs and treads that are comfortable to sit on. This allowed unobstructed views from the kitchen to the backyard.