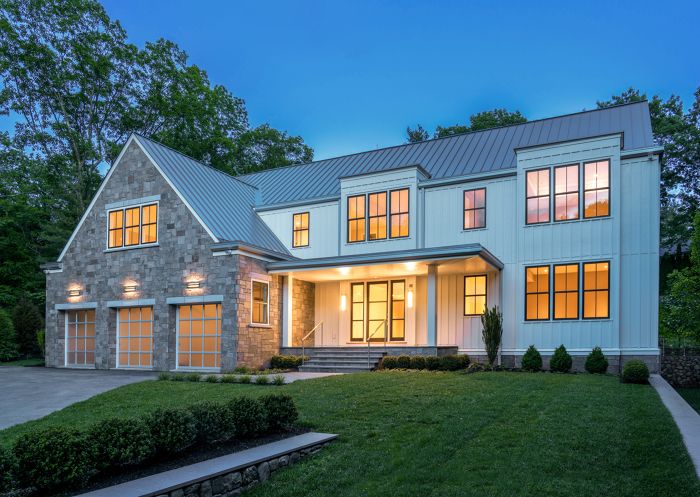 When our client asked us to design a "modern farmhouse" in a largely traditional New England town, we knew we needed to strike just the right note for the neighborhood and for our client. The exterior of the house was to have all the trappings of a modern farmhouse – a shoebox massing, vertical board and batten siding, metal roofing, tall vertical windows, clean detailing, and stone accents – but also needed to fit into the colonial neighborhood. Our solution was two-fold – 1) the metal roof would have an indented gabled form and 2) an angled floor plan would keep the street façade in scale with the neighborhood, but let the interior "ramble."
The indented gable roof, alongside cantilevered portico roofs, was a key element. From a distance the gable shape evokes a colonial massing. However, as you move closer the indentation causing the roof recede visually, giving it the appearance more akin to a flat roof placing emphasis on the linear farmhouse massing. On the home's interior, light floods in from the generous south-facing windows and sliding doors opening to the south-facing rear yard. White walls and a soft, light finish on the wood floors showcase the client's furnishings and colorful artwork.
The finishes are more refined than a traditional farmhouse, leaning towards a more modern aesthetic. However, it was important to make sure the "modern" elements didn't feel cold. An excellent example of this balance can be found in the kitchen eating island countertop. The marble top, instead of receiving a formal polished finish, was leathered which distinguishes the veining for a soft, tactile finish. Metal railings run from the basement up to the third floor studio, but maintain a touch of softness in the wood handrails. By a coincidence of the client and site, this project became an opportunity to explore lessons learned from both modern and traditional designs and to illustrate the modern design can be warm and welcoming, and farmhouse design can be elegant and refined.